The Best Men's Shower Gels
Freshen up with the most exciting shower gels on the market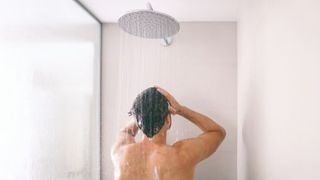 (Image credit: Unknown)
Hopefully we don't need to sell you on the merits of using shower gel, but we would like to sell you on the benefits of upgrading whatever body wash you are using right now to one of our picks below.
Sure, you can grab whatever's discounted at your local supermarket and it will get you clean, but with the right gel you can enjoy a real experience every time you step in the shower. You don't have to spend loads either – although there are some very pricy options below, we have options to suit all budgets.
---
The Fellowship
Energising Face & Body Wash
"Mandarin, green tea and ginger equals reinvigorated skin that's deeply cleansed" is the claim made with this body wash, and we cannot fault a word of it. Truthfully you can pop a little bit of ginger in almost anything and we're going to be fans, but the combination with mandarin creates an especially excellent scent.
Buy from The Fellowship | £15 for 300ml
---
Neal's Yard
Invigorating Hair & Body Wash
Invigorating is certainly the right word for this citrusy body and hair wash, with grapefruit and bergamot combining into a delightful herby scent that spices up a shower. It lathers up nicely if you're using it to clean your hair too, so it doesn't take too much to get a great wash, which is handy because otherwise the rather small 200ml bottle would empty in short order.
Buy from Neal's Yard | £15.50 for 200ml
---
This new Irish brand has included magnesium and arnica in its all-natural formulation to "relieve sore muscles and joints". It's a bit hard to tell if it's doing its job, but the peppermint is certainly invigorating and we stepped out of the shower feeling refreshed.
---
Vigour8
Premium Sports Bodywash
There are seven different oils in this body wash, which is specifically designed for sweaty athletes. Some of these oils might sound made up – kanuka oil is just a little too close to manuka oil to be real, surely? – but all of them are in there for a specific reason, whether it's suppressing bacterial growth or providing a relaxing scent. The overall smell is distinctive: it reminded us of a mechanic's workshop in truth, which is manly for sure but not necessarily to everyone's taste. The body wash can be put to many other uses too, including as a shampoo, a conditioner and a shaving gel.
Buy from Vigour8 | £30.75 for for three 270ml bottles
---
The Eurosport Active Skin range contains a number of products specifically aimed at the sporty. What that means with regard to this hair and body wash is that there are ingredients designed to prise the most firmly embedded dirt and grit out of your skin. Ideal if you've been mountain biking down dusty trails all day. We found that the wash is still pretty gentle on your skin, so even after a deep clean it won't dry you out too much.
Buy from Eurosport | £10 for 150ml
---
Jack Black Black Reserve
Body & Hair Cleanser
The standard range of washes and moisturisers from Jack Black contains some of our favourite products, so we were very pleased to find Black Reserve body wash stays true to form. There's a lot going on with the smell of the stuff beyond the headline cardamom and cedarwood, but the overall effect is still fairly subtle and very pleasant, and the gel left our skin feeling fresh and not at all dry.
Buy from Jack Black | £11 for 88ml, £25 for 355ml, £48 for 975ml
---
Triumph & Disaster YLF
Body Wash
This body wash is quite the multitasker: it can wash your hair, face and body and even lather up for a shave. It certainly does froth up a treat in the shower, and the sandalwood and neroli scent is just noticeable enough to be pleasant without becoming overpowering. Another plus point is the sizeable plunger. We love a good plunger. Who wants to hold and squeeze a bottle when you can just pump away? It also means you don't squeeze too much of the stuff into your hand, because the way this gel foams up means you really don't need a lot.
Buy from Triumph & Disaster | £28 for 500ml
---
Noble Isle
Scots Pine Luxury Bath And Shower Gel
As far as we know, there's been no conclusive research into what the freshest scent known to humankind is, but we're happy to go on record as saying it's pine. And more specifically the towering pine forests of Scotland on a chilly morn. Do you want to be transported to those forests every time you shower by the incredible smell of this shower gel? Trust us when we say you do.
Buy from Noble Isle | £21 for 250ml
---
Mio has created a Workout Wonders range of grooming products to help invigorate your skin before and after training. This body wash is, naturally, designed to be used afterwards – unless you like to be really clean before you sweat. The gel contains eucalyptus for a refreshing scent and feel, and it creates a pleasant, cooling tingle on the skin that you can boost further by also using the Muscle Motivator gel from the range.
Buy from Mio | £19 for 200ml
---
Bulldog
Original Shower Gel
The four-strong range of Bulldog shower gels all offer splendid aromas and we had a hard time picking our favourite, but although the Peppermint & Eucalyptus gets extra points for its refreshing sensation, we plumped for the citrusy, patchouli smell of the Original in the end. The gel feels like a luxury option for a fraction of the cost, especially as you get a sizeable 500ml bottle of the stuff, and we found that it didn't dry out our skin at all.
Buy from Bulldog | £3 for 500ml
---
Four evocative scents are available here – redwood, shiso, stone and fig – of which redwood is the standout. Who wouldn't want to smell like an awe-inspiringly massive tree, after all? The gel lathers up nicely but it's best avoided if you have dry skin because it left our skin feeling a little, well, dry.
Buy from Harry's | £5 for 250ml
---
Molton Brown
Re-Charge Black Pepper Bath & Shower Gel
Black pepper, ginger and vetiver are the key ingredients in this spicy, luxurious shower gel, and it's an awesome combination, even if we had no idea what vetiver is. Google reveals it's a fragrant perennial grass, a bit like your friend and mine lemongrass.
Buy from Molton Brown | £22 for 300ml
---
Original Source Shower
Gel Mint And Tea Tree
It's a favourite of anyone used to hunting down £1 shower gel deals in the supermarket, but let's not undersell the quality of this classic body wash. Your skin will tingle after using it and that's just a great way to start the day.
Find retailers through Original Source | From £1 for 250ml at Tesco
---
See related
---
Dove Men+
Care Clean Comfort Body Wash
Another classic of the supermarket shelves, Dove's body wash smells good, has a moisturising effect and offers great value. Our only problem with it is that it's dashed tricky to get the final few squirts out of the bottom of the bottle owing to the unyielding nature of the plastic used.
Buy from Boots | £2 for 400ml
Sign up for workout ideas, training advice, reviews of the latest gear and more.