The Best Medicine Balls
Whether you plan to slam it, chuck it at a wall or use it as extra weight, a medicine ball is just the tonic for your home workouts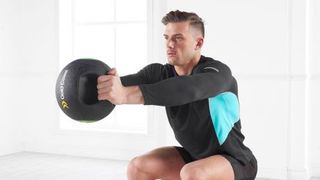 (Image credit: Unknown)
A medicine ball will rarely make you feel better immediately because it's often used to make things harder – it can add a whole new burn to a basic sit-up for instance – but it will make you feel better in the long run. It was originally designed for rehabilitation purposes, after all.
It's a worthwhile addition to any home gym, but first it's worth understanding the types of medicine ball available. We've included a quick guide explaining the key differences, before selecting the best medicine balls so you can find the right addition to your home gym set-up.
Three Types Of Medicine Balls Explained
Slam ball
Why you can trust Coach Our expert reviewers spend hours testing and comparing products and services so you can choose the best for you. Find out more about how we test.
A slam ball is designed to absorb impact so it's usually filled with gel or sand. That means no matter how hard your hurl it into the ground, it won't bounce or roll away. A slam ball is primarily used for… well, we don't need to spell it out – but it's also useful to have around for throws and certain progressions of abs exercises, as well as something unstable to rest your feet on to make a plank harder.
Rubber/grip medicine balls
Rubber/grip med balls, like the slam ball, can be used to make an exercise harder by using it as a weight. While they're not so good at absorbing shock, they excel as a prop for certain exercises where the slam ball flounders: for instance, any move which requires the medicine ball to roll along the ground, such as the passing medicine ball press-up or the medicine ball roll-out. Although they have a slight bounce, they can still be used for a medicine ball slam – the bounce can be used to increase the speed of reps because you can catch the medicine ball as it comes up, thereby increasing the cardio demands of the move.
Medicine balls with handles
Using a ball with handles gives you a great deal more control when conducting exercises that require agility or increasing the speed at which you perform the movement. For instance, Russian twists and toe touches can be completed with much greater fluidity. You can also add exercises such as woodchops or star jumps to your routine when you're packing a medicine ball with handles.
The Best Medicine Balls
(opens in new tab)
DTX Fitness Slam Ball
Best Slam Ball
There are currently four weights to choose from with these handle-less balls – 3kg, 5kg, 10kg and 15kg – and it's worth moving fast if you want to grab one, because medicine balls are increasingly in short supply as people stock up on home gym equipment during the COVID-19 lockdown. The balls have a textured pattern on the outer layer to help you grip the ball, so you can really put everything into your slams.
---
(opens in new tab)
Physical Company MB7K Medicine Ball
Best Rubber/Grip Medicine Ball
These will cost you more than we'd usually recommend, but these are exceptional times. There are three weights to choose from, ranging from 8kg to 10kg, and the ball's surface is textured to help with grip. Bear in mind that this model is best if you're planning to work on your abs during lockdown, because the manufacturer says these are not designed to be slammed – the spoilsports.
---
(opens in new tab)
SKLZ Medicine Ball
Best Hybrid
This medicine ball has ridges like a slam ball and can be pummelled into the ground as hard as you like, but unlike a slam ball it'll bounce back up. It weighs in pretty light, though: don't be fooled by the 15 printed on the ball – that's pounds (because SKLZ is an American brand) which means it's around 6.8kg in real money.
---
(opens in new tab)
JTX Medicine Ball
Best Medicine Ball With Handles
If you're after a ball with a handle to juice up your home workouts JTX currently has 6kg and 10kg balls available. With the handles plus the non-slip coating on the outside, you can be sure the ball will stay within your grasp during the most dynamic of workouts.
Buy 6kg from JTX (opens in new tab) | £40
Buy 10kg from JTX (opens in new tab) | £55
---
(opens in new tab)
Carbon Claw Pro X ILD-7
Best Leather Medicine Ball
Go traditional with this leather slam ball, which won't bounce no matter how hard you hurl it to the ground. Unless of course the surface you're on is bouncy itself – don't do slams on trampolines, folks. The leather panels are easy to grip so you can really put your back into your exercise without fear of dropping the ball before you intend to. There are only 3kg balls available at Sweatband at the moment, but some other weights are due for a restock on 1st June.
Buy from Sweatband (opens in new tab) | £31.99-£37.99
---
(opens in new tab)
Dynamax Atlas Ball
Best Heavy Medicine Ball
All right – no more messing around with lightweight balls for slamming around. This is a beast, designed to be used for strongman, and indeed strongwoman, workouts, replicating the weight and girth of the Atlas stones. The Atlas Ball is soft, although we'd still avoid dropping one on your foot, especially the heaviest of the 25kg, 35kg, 45kg and 65kg weight options. It's very expensive at £290 for the 25kg ball and £464 for the 65kg, but you're getting a durable, waterproof ball that's ideal for heavy workouts and CrossFit.
Buy from Eleiko (opens in new tab) | From £290
Sign up for workout ideas, training advice, reviews of the latest gear and more.