The Best Piece Of Home Workout Equipment You're Not Considering
The space-saving SkiErg Nordic skiing machine provides a full-body workout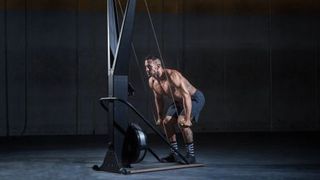 (Image credit: Unknown)
As fitness studios and gyms shutter to help arrest the spread of COVID-19, you may well be considering buying some home fitness equipment – we're certainly seeing messages from plenty of readers who are. And while we've been making sure our recommendations for treadmills, exercise bikes, rowing machines, cross-trainers and turbo trainers are tip-top and up to date, we were reminded of a great option which doesn't fit any of those categories: the Concept2 SkiErg, which we think is close to the ideal bit of home equipment (if your budget stretches to £700).
For one, the SkiErg takes up a lot less space than other machines, because the design means it sits neatly against a wall (you can also get a mount to make it free-standing). You do need a room with a reasonably high ceiling, because the SkiErg is 7ft (2.13m) tall, and then a couple of metres of clearance around you when using it – but that's less floor space than other machines demand, and the SkiErg doesn't need to be folded up afterwards either.
Then there's the fact that the SkiErg delivers a more rounded workout than most other machines. The pulling motion of Nordic skiing that this machine replicates consists of four stages. You start with your arms above your head, pulling the handles down mostly with your arms, then engage your core and lower body to crunch and pull the ropes further down. Then you take the handles out behind you and the final stage is the return, where you take the handles back up with control, which hits the muscles along the back of your body in particular.
See related
It's a great full-body workout that's also easy on your joints, since you stand in the same position throughout. If you're shying away from a treadmill in particular because you're worried about the impact of running, the SkiErg makes a great alternative option.
The resistance of the machine changes in line with how hard you pull on the handles, which means you can increase the intensity of your workout instantly. This makes the SkiErg a great pick for HIIT sessions, but you can also maintain a steady-state workout easily by not pulling too hard on the handles.
There is also a damper you can use to change the feel of the flywheel, just like with Concept2's rowers. At the higher settings more air is allowed into the flywheel so it feels harder to pull at the start of each stroke, and you lose more momentum between them. That makes a higher setting ideal for challenging HIIT sessions, while a lower setting makes it easier to get into a rhythm for long workouts. If you are a keen Nordic skier (we're not), the lower levels are apparently more akin to skiing on a flat surface or downhill, while the higher levels mimic going uphill.
Concept2 Ski Erg with PM5 - Black
The noise levels of the machine are the same as you'll get with an air rower, which is to say it's pretty loud. That, plus the fact you're standing facing the machine, makes it tricky to watch TV while using the SkiErg. Your workout entertainment will have to be restricted to audio, which is one downside.
Another could be the price, though this depends on which way you look at it. The SkiErg is a premium, gym-standard machine that you get for a lot less than you'd have to pay for an equally high-quality treadmill or cross-trainer. There's no budget version of the SkiErg you can get for £300, but you are getting a top-notch machine for £700, which to our minds is great value if you've got the money.
If you're on the hunt for a cardio machine to use at home and are feeling uninspired by the usual options, the SkiErg is a versatile, compact option that will get you fitter fast.
Buy on Amazon | £699.99
Sign up for workout ideas, training advice, reviews of the latest gear and more.