Grab A Bargain Treadmill In The JTX Fitness Sale
There are also noteworthy deals on exercise bikes, rowers and cross-trainers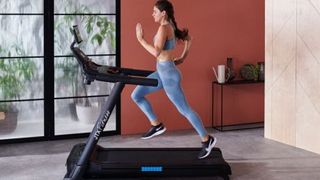 (Image credit: Unknown)
We've reviewed several of JTX Fitness's cardio machines and it's fair to say we've been impressed by the quality you get for the price, which is why you'll find the brand in all our round-ups of the best home cardio equipment available.
That's also why our ears perked up when we heard JTX had a sale on. It's especially good news given that it has been so hard to find good-quality cardio machines at all over the past 18 months, so to be able to now pick them up at a reduced price is a welcome bonus.
You may wonder whether it's still worth investing in a piece of home cardio equipment when you can leave the house to run or cycle – we did too – but then we thought about the possibility of being required to self-isolate for up to ten days.
Whether you are keen on a treadmill, exercise bike, rower or elliptical, there is a JTX deal worth considering. We've highlighted the best ones below to help you choose.
JTX Sprint-5 Treadmill – Save 12%, Now £759
This powerful treadmill will comfortably meet the needs of most runners, with a top speed of 18km/h, an incline range that goes up to 10% and 43 preset workout programmes to try.
Buy from JTX | £759 (RRP £859)
JTX Cyclo-6 Exercise Bike – Save 17%, Now £499
This spinning-style bike provides just as good a workout as the eye-wateringly expensive models you get from brands like Peloton and Echelon – it just doesn't have a built-in screen or a partner app for guided classes. However, you can still use it to follow along with spinning classes via third-party apps or even YouTube, and the hefty 22kg flywheel and infinite resistance allow you to really feel the heat of HIIT sessions.
Buy from JTX | £499 (RRP £599)
JTX Freedom Air Rower – Save 19%, Now £399
A great no-frills option to help you get fit at home, the JTX Freedom Air uses both air and magnetic resistance to provide a smooth and challenging action. It connects with Polar heart rate monitors and it's also self-powered, so you don't have to set it up near a plug.
Buy from JTX | £399 (RRP £495) | JTX Freedom Air review
JTX Cyclo-Go Exercise Bike – Save 25%, Now £299
If you'd prefer an upright bike to the type you'd find in a studio, the Cyclo-Go is your best option in the JTX sale. With its more comfortable riding position it is better suited to beginners looking to get in shape than to people trying to push their limits with spinning classes at home. The Cyclo-Go has an 11kg flywheel, 16 levels of resistance and 21 preset workouts.
Buy from JTX | £299 (RRP £399)
See related
JTX Strider-X7 Cross-Trainer – Save 18%, Now £409
We rate the Strider-X7 as the best cross-trainer available for under £500, so it's certainly great value at £409 in the sale. It has a 12.5kg flywheel and 16 levels of resistance you can use to increase the difficulty of your workouts.
Buy from JTX | £409 (RRP £499)
JTX Ignite Air – Save 14%, Now £595
The Ignite Air is JTX's top-of-the-range rower, built to provide a high-quality experience that matches up well to Concept2's gold-standard Model D. The air resistance lends a smooth and realistic feel to the action, and the self-powered machine has a smartphone holder on the console.
Buy from JTX | £595 (RRP £695)
Sign up for workout ideas, training advice, reviews of the latest gear and more.