The Best Mindfulness Apps
Improve your mental wellbeing with these mindfulness and meditation apps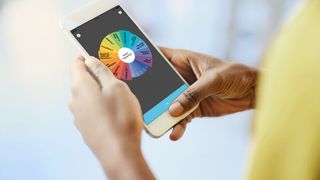 (Image credit: unknown)
For many people the first step towards a more mindful approach to their everyday life is to switch off their smartphone, thus blocking the incessant stream of notifications and the stress they create. However, that would actually be a disservice to the marvels of modern technology, which include many excellent mindfulness and meditation apps that are available to all.
As with all kinds of fitness apps, there is a lot of chaff out there. To help you pluck out the wheat, here's our selection of the best mindfulness apps to consider. Just make sure you turn off your other notifications before opening them.
Thrive
This free app comes recommended by the NHS and is designed to help you keep tabs on your mood and learn a variety of evidence-backed stress management techniques, such as breathing exercises, meditation and deep muscle relaxation. The Thrive app was originally only available through organisations like the NHS, insurers and charities, but has been opened up to everyone during the COVID-19 pandemic, and will continue to be free to all afterwards as well. You will need to request an access code to use it, but all it takes is entering your email on the Thrive website.
Download from App Store and Google Play | Free
Headspace
This app aims to make meditation simple, with spoken-word exercises that you spend ten minutes a day doing. There are hundreds of session to try, including short "SOS exercises" designed to be used in a pinch if you're feeling anxious. Headspace does good job of not alienating people who might be suspicious of meditation, with a practical approach that's easy to follow and devoid of mysticism. It's not cheap, but a one or two week trial is available, depending on whether you opt to pay monthly or annually after your trial expires.
Download from App Store and Google Play| Free, premium £9.99 a month, £49.99 a year
Calm
Like Headspace, Calm will teach you how to meditate through a series of guided sessions, which are from three to 25 minutes long, so you can pick one that fits with the time you have available. The app also has breathing exercises and over 50 "Sleep Stories" – adult bedtime tales to help you drop off.
App Store and Google Play | Free, premium £13.49 a month, £44.99 a year

Buddhify
Try more than 80 different meditation sessions, lasting between five and 30 minutes, that are tailored to everyday situations. There are 14 different scenarios, such as walking in the city, taking a work break and trying to sleep, with several meditation sessions designed for each. Buddhify has an edge over other popular mindfulness apps in that it costs £4.99 up front, with no monthly subscription or additional fees. One less thing to worry about.
Download from App Store and Google Play | £4.99

Yogaia
The benefits of regular yoga are both physical and mental, and if you're looking for a way to practise mindfulness that's more active than sitting in place then it's a great option. The Yogaia app offers both live yoga classes, where you can join via video link so the instructor can see you and offer advice, and recorded video sessions you can do any time. There are also many dedicated meditation sessions on the app, with the step-by-step guidance from an instructor being especially useful for beginners learning how to practise mindfulness.
Download from App Store or Google Play | Free, premium £14.99 a month
See related
PAUSE
Just about as simple as an app gets. You move your finger across the screen to expand a coloured blob, a process which is apparently designed to trigger your body's "rest and digest" response. There's a chance this stripped-back approach will annoy you immensely, but it might also be just the ticket for some quick relaxation. It's worth giving it a try.
Download from App Store and Google Play | £1.99
Monument Valley 2
For some people actively chasing mindfulness with a dedicated app will never work, so it's worth trying a less direct approach. The Monument Valley series of games is beautifully designed, with a calming soundtrack that will naturally relax you as you solve a series of puzzles.
Download from App Store | £4.99
Insight Timer
This free app hosts a vast amount of sessions – over 6,000 in fact, from more than 1,200 teachers – which means that given enough time, just about anyone can find something to suit them. The huge user base also means that the app has a thriving community where you can discuss anything to do with meditation and mindfulness, as well as getting recommendations for sessions to try.
Download from App Store and Google Play | Free
Sign up for workout ideas, training advice, reviews of the latest gear and more.