How Mindful Drinking Can Help You Keep Your Boozing In Hand This Christmas
All it takes is asking yourself whether you actually want that pint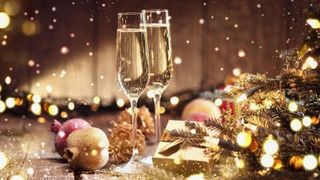 (Image credit: Unknown)
Keeping a sharp eye on the amount you're drinking is a good move any time of the year, but it's especially worthwhile during the festive party period, when you can easily slip into the habit of boozing most days to celebrate the season.
There's nothing wrong with a little indulgence around Christmas, of course, but if you're drinking more than you want to, or just to make interminable office parties more bearable, it's worth re-evaluating your approach to alcohol.
The organisation Club Soda helps people look at and, if they want, change their drinking habits, so Coach spoke to co-founder Laura Willoughby about mindful drinking and how it can help keep your booze consumption under control this Christmas.
What is mindful drinking?
Mindful drinking is about setting your own rules about drinking – thinking about when, where and at what times you really want to drink.
So the key is just to think about it, not necessarily to cut out all drinking?
Yeah, at Club Soda we don't like telling people what to do. It's about what you want to achieve – looking at all your health goals and thinking about where alcohol fits in.
RECOMMENDED: Five Easy Ways To Cut Down On Drinking Alcohol
What are the reasons people end up drinking without thinking about it?
We're in a very alco-centric society. We use alcohol to celebrate, to commiserate, to be social… we're taught to use it for everything. So it's about cutting a few of those reasons out. Maybe not drinking alone – if being social and having a drink with mates is important to you, then maybe save your drinking for then.
Some people are beginning to make decisions about not drinking during the week, or not drinking alone, saving the time they do drink for a special night out rather than as a everyday habit. It also means that if they're thinking about their diet and going to the gym they're not undoing their hard work through mindless drinking.
How do you start mindful drinking and what are the common pitfalls?
It's all about planning and thinking through the week ahead. If you know you're going to be at events where there is alcohol present and it's a day that you don't want to drink, then think about what you're going to drink instead. You might want to make sure you pick a pub that has a good alcohol-free beer. Or you might say, "I don't want to drink on Friday so I'm not going to go out". Learn to say no to people and look at activities to do with your mates that don't involve drinking.
It might also mean having an alternative drink at home, so if you're trying to avoid drinking wine while cooking you might still want to drink something nice – a good alcohol-free wine or beer, or a craft soda.
RECOMMENDED: The Best Non-Alcoholic Beer (And A Few Very-Low-Alcohol Beers)
Then if you have mates who are really persistent you might want to be really clear with them – tell them you've decided you're not going to drink on these days and why. Be clear that you're doing something that's important for you.
That can be the hardest part for people. Do you think the key is to get ahead of the peer pressure?
Yes, and make it clear what you don't want them to do. If you think they're the mates who are going to put you under pressure, say that it would really help if they didn't. Be very specific.
It doesn't mean you don't go out. I go the pub more now I'm not drinking. Being social to me is about being in social places and I just don't get the hangover the next day anymore.
Do you have any specific advice for the Christmas party season?
One thing is to recognise that if you're bored somewhere, it's OK to go home. It's mad that we drink in order to stay somewhere where we're not enjoying ourselves. Then you have the hangover the following morning and think, "it was a shit night and I've got a hangover". That's a real double whammy. Give yourself permission to go home if you're not enjoying yourself.
You don't have to go to every party, and there are loads of things you can do that aren't so centred around drinking. You can go to Christmassy events without the need to drink alcohol. Look around for the things you haven't tried before because this year you're not just going to be standing in a pub handing cash over the bar. You can experience new stuff with friends and family.
The other thing is not to have an alcoholic drink for your first two drinks. Then make a decision. If you can delay your first drink it really helps. And if it's a pub event get there before or just after everyone else, then you can get your own drink and not get caught up in rounds.
People are far less bothered about what you're drinking than you think they're going to be. And bar staff want you to be there and enjoy yourself, so tell them you're not drinking but don't want to make a big deal out of it. Take your time at the bar, they will find you something nice. Then go up and ask for the same again and the bar staff will know it's just a tonic or an alcohol-free beer or whatever.
How can people get involved with Club Soda?
If you go to joinclubsoda.co.uk there's loads of advice and tips. We have a community of nearly 15,000 members all changing their drinking habits in all sorts of different ways, and we don't tell anyone what to do. What we want to do is give everyone the skills to not feel out of place when not drinking.
Club Soda is hosting a Mindful Pub Crawl on 18th January, which will visit some of its recommended pubs for low-alcohol and alcohol-free drinks. For more info visit joinclubsoda.co.uk
Sign up for workout ideas, training advice, reviews of the latest gear and more.