How To Maintain Your Willpower During Sober October
And what to do next if you do succumb to temptation and have a drink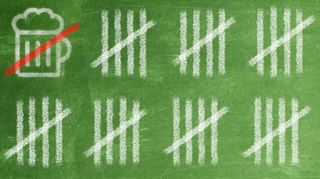 (Image credit: Unknown)
If you're currently in the middle of an attempt to avoid alcohol throughout the month of October, then all power to you. Taking a month off the booze is a great way to reassess your relationship with alcohol, and also to show off the benefits of cutting back to both your health and your wallet.
However, let's not pretend that it's going to be an easy ride. By the middle of the month your motivation to stay dry is probably starting to wane.
"The first week is often the easiest," says Jo Hemmings, a behavioural psychologist and supporter of Macmillan's Go Sober for October. "And the last is OK because you're in the home straight. Weeks two and three are usually the most difficult, when your willpower is at its lowest."
If you are finding it harder and harder to stay on the wagon as October progresses, then heed this advice from Hemmings on how to maintain your motivation.
Look In The Mirror
The benefits of going booze-free become apparent very quickly.
"After just a week, your skin will look better, you'll have better-quality sleep and you will probably have lost a few pounds," says Hemmings. "Embrace those positives."
A dry October provides a well-timed health boost as well, because Christmas is around the corner. When you consider all the partying to come, a sober October will start to feel like a blessing.
"Christmas is coming up. It's a time of excess – whether food, spending or alcohol," says Hemmings. "With your one month sober, you'll be in tip-top physical and psychological health."
Treat Yo' Self
If you're someone who frequently hits the pub after work, the amount of cash you'll have saved after just a couple of weeks will be considerable. Put that money towards something more lasting than a couple of quick drinks.
"Think of the money you're saving and maybe treat yourself to something," says Hemmings.
Occupy Your Mind
The hardest times to avoid alcohol will be the times you'd normally be drinking so it's helpful to come up with alternatives.
"Don't clock-watch," says Hemmings. "If you're someone who likes a drink on a weeknight, for example, do something else to take your mind off the booze."
One thing you could try is exercise. That might sound like a joyless double whammy – no booze and you have to work out – but exercise will make you feel excellent, we promise. And given that you've been off alcohol for a couple of weeks, you'll be feeling healthier and readier to work out.
"While you're feeling fitter, do some regular exercise. It releases feelgood endorphins, the body's natural narcotic," says Hemmings.
See related
Get Creative With A Mocktail
When the going gets really tough, try a mocktail to take the edge off the urge to drink without actually indulging.
"They taste great and give you the satisfaction of a booze-free cocktail," says Hemmings. "You can find some great examples on the Go Sober For October website."
Get Some Social Support
As long as you avoid certain areas of the internet, you'll find it a very supportive place. Lots of people will be trying to stay dry this October, and lots of them could be struggling just like you, so get online and start backing each other up. Check out the hashtag #GoSober on Twitter, Instagram and Facebook to find other people signed up for Macmillan's Go Sober For October campaign.
Remember One Drink Isn't The End Of The World
Stay sober if you can, obviously – but if you do have a drink, don't let it spiral out of control and give up on the month entirely.
"If you do find yourself tempted into a drink, don't be hard on yourself," says Hemmings. "It happens. Don't give up, just start back again tomorrow. Don't let one bad day spoil your efforts."
Sign up for workout ideas, training advice, reviews of the latest gear and more.