Six Tips To Make Go Sober For October That Bit Easier
Make a month off the booze fly by with this advice from a behavioural psychologist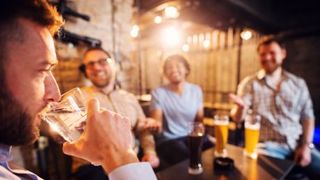 (Image credit: Unknown)
October is a time for giving up your vices, or at least taking an extended break from them. However, whether you've signed up to stop smoking with Stoptober or given up booze for a month with Macmillan Cancer Support's Go Sober For October, it's not an easy thing to do.
To help you make it through the month more easily, we asked behavioural psychologist Jo Hemmings for some top tips on how to stay sober.
1. Don't Be A Hermit
"You're giving up drinking, not throwing out your social calendar," says Hemmings. "It's true the darker nights are drawing in, but staying indoors and binge-watching TV series will get boring after a while. Planning plenty of fun activities will not only give you something to look forward to that doesn't involve drinking, but also make a weekend lost to a hangover seem far less appealing."
2. Celebrate Your Small Wins
"If you're used to drinking regularly, 31 days of sobriety can seem like a mammoth task," says Hemmings. "Breaking this down, be it into weeks or social events that you might be tempted to drink at, and concentrating on one at a time will help things seem more manageable. Sharing your successes with loved ones or with others on social media will also give you a boost and help you to persevere."
3. Treat Yourself
"A glass of wine or a cold beer can often seem like a way of rewarding yourself at the end of a busy day," says Hemmings, "but a drink isn't the only way of giving yourself some TLC. Treat yourself with things you normally might not find time for: a luxurious bubble bath, a long run listening to your favourite podcast, or making a fancy mocktail at home."
4. Find A Fellow Soberhero
"Having someone to share the Go Sober experience with will do wonders for your motivation," says Hemmings. "If you can convince a friend or family member to take on the challenge you'll not only benefit from mutual encouragement and support, but also be less likely to reach for a glass of wine when things get tough. Unite and conquer!"
See related
5. Remind Yourself Of The Benefits
"As the challenge progresses, you'll find yourself becoming more attuned to the benefits of not drinking," says Hemmings. "Reminding yourself of these – the money you're saving, the better sleep you're having, the general boost to your overall wellbeing – will motivate you to keep on track and help you realise you're not giving something up, you're embracing something new."
6. Keep The Cause In Mind
"Whatever your motivation for taking part, remember that the money you're raising through the challenge will do something amazing for people living with cancer," says Hemmings. "If you find yourself tempted to stray, take a deep breath, focus on your goal and give yourself a pat on the back for what you've achieved so far."
Take on Macmillan's Go Sober challenge this October and raise money to support people living with cancer by signing up at GoSober.org.uk
Sign up for workout ideas, training advice, reviews of the latest gear and more.