This Deliveroo Code Gives London Marathon Runners Free Pasta
You can get £10 off a delivery from Pasta Evangelists' London locations on Friday and Saturday using the code RUNPASTA10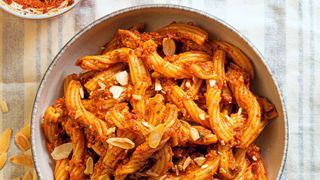 (Image credit: Pasta Evangelists)
After many months of marathon training, the weekend of the London Marathon is a very exciting time. Not only do you get to enjoy the race itself, which is always a special occasion even if it doesn't go to plan, but you also get to carb-load.
This is what all that running has been building up to. The chance to gorge on carbs to ensure your body has the fuel it needs to run 26.2 miles. The actual running is great, but the carb-loading is truly tremendous.
To help your body stock up with vital carbs, Deliveroo has issued the code RUNPASTA10 for £10 off at Pasta Evangelists. It's available to use until Saturday 22nd April, although only 4,000 are available. Don't worry about beginning to carb-load early—it's better to increase your carb intake over the two days before the race.
You can use the voucher to get any pasta dish from Pasta Evangelists' 27 London stores, with options available including the Carbonara of Dreams and a vegan sun-dried tomato and almond pesto. While a few dishes do cost less than £10, there's a minimum spend of £15 so you'll need to hand over at least £5.
If we were to offer any advice on your choice, it would be to aim for a fairly simple dish that's not packed with fiber if possible—it's always wise to make things as easy for your stomach as possible before you try to run 26.2 miles while guzzling high-sugar products like energy gels or sports drinks for fuel. That's one of the nuggets of advice you'll find in our guide to carb-loading.
Demand is likely to be high for these vouchers, so make sure you grab yours before the 4,000 run out. There doesn't seem to be any demand for proof you're actually running the marathon either, so your competition for the free pasta might be from everyone, not just the 40,000-plus other people running the race. If you aren't running and just fancy some free pasta, please do remember how far 26.2 miles is and leave the vouchers for those with a marathon to do.
Sign up for workout ideas, training advice, reviews of the latest gear and more.