Five No-Fuss High-Protein Breakfast Recipes
Whip up these easy brekkie recipes for a protein-packed morning meal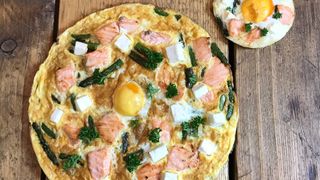 (Image credit: Unknown)
Even if you don't subscribe to the notion that breakfast is the most important meal of the day, most will at least accept it's pretty damn important – especially when their stomach starts growling aggressively from hunger during that mid-morning catch-up with the boss. Unfortunately it's also a meal that's hard to give the attention it deserves, because spending a lot of time making breakfast generally means either cutting into your sleep, or being late for work which, funnily enough, your boss wants a catch-up about.
All of which makes these five quick, easy and tasty recipes from Instagram's finest no-fuss foodie The Food Grinder (opens in new tab) an absolute godsend. Each contains a hefty portion of protein so they're ideal fodder for a post-workout meal – if you're up early enough to fit in a workout before breakfast, that is.
Salmon And Asparagus Monster Fried Egg
The upsides of this delicious breakfast are obvious. Salmon provides protein and omega 3 fatty acids, asparagus is loaded with vitamins and minerals, and eggs is eggs. The downside is equally clear – you'll never want a normal fried egg again.
Peanut Butter And Jam Protein Porridge
A few minutes in the microwave is all it takes to create this filling porridge, which has a dollop of whey powder thrown in to boost its protein content.
See related
Homemade Double Egg And Bacon Muffin
It's not a particularly healthy breakfast, but it is healthier than getting a McMuffin from your local Golden Arches, and going home-made is more satisfying to boot.
Spinach And Mushroom Egg Bake
After a little prep you can chuck this bake in the oven for 20 minutes, providing the perfect window for a speedy home workout of a morning.
Healthy No-Fuss Fry-Up
Swap out the bacon and sausage for halloumi and spinach and the traditional fry-up takes on a new, somewhat healthier look. And halloumi is the best breakfast food anyway.
The Food Grinder is working with healthcare company Simplyhealth to encourage people to stay motivated with their fitness-related New Year's resolutions. Visit millionsmoving.co.uk (opens in new tab) for more
Sign up for workout ideas, training advice, reviews of the latest gear and more.