The Best YouTube Workout Channels
Get your fitness fix for free using these excellent workout channels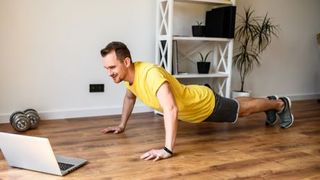 (Image credit: Unknown)
If you're looking for guided video workouts to do at home you have a lot of excellent options right now. You can head to Instagram and find your favourite gym or studio, which will probably be offering online classes during the COVID-19 lockdown, or you can turn to the many brilliant home workout apps that are available, such as our top pick FiiT.
Above all, you have YouTube, which is bursting at the seams with workout videos to follow at home. Free workout videos, at that, as long as you don't mind sitting through the odd advert.
However, for every brilliant workout video on YouTube there are several duds. So to make sure you get all killer and no filler, we recommend these terrific channels.
PE instructor to the masses Joe Wicks has a vast range of home HIIT workouts available on his channel, with the videos handily divided into playlists that makes it easy to find those suitable for your level.
This new channel is offering a free 30-day programme of yoga sessions that started on 2nd January. New videos come out each day, and they stay on the channel so you can start the 30 days whenever you like. It's a great way to introduce yourself to yoga, especially especially if you're unable to get out to live classes for, um, any reason.
It's not unreasonable to say that everyone should do Pilates regularly, because the core strength and posture benefits may well improve your quality of life. Cassey Ho's channel makes it easy to slip some Pilates into your schedule, with classes of a variety of lengths suitable to all levels. There's a dedicated playlist with videos targeted at beginners, along with plenty of abs-focused sessions for those looking to carve out a better-defined core.
While the all-conquering Yoga With Adriene has many more subscribers, and very good it is too, we've found that we prefer the yoga sessions on EkhartYoga. The playlists include one focusing on beginners, and you'll also find tutorial videos on fundamental poses like downward-facing dog. No-one can correct you on YouTube, so it's worth spending a bit of time refining your technique.
This channel focuses on boxing workouts, but you don't need a heavy bag in your front room to follow along at home. There are plenty of shadowboxing routines and general HIIT conditioning workouts, all of which will help get you in fighting shape whether you plan to enter the ring or not.
See related
You could tackle a workout a day from this channel without having to repeat one for a couple of years, and the varied nature of the sessions means you probably wouldn't get bored in the process. There are workouts to fit any amount of time you have available, starting at five minutes, plus dance workouts, boxing workouts, Pilates workouts, HIIT workouts and many, many more.
The husband and wife team behind this channel have put together over 500 workout videos that provide an accessible challenge to all levels of fitness. If you are more experienced and looking for a challenge, at the top of your list to try should be the 90-minute, 1,000-calorie workout that includes HIIT, Pilates and kickboxing elements.
Sign up for workout ideas, training advice, reviews of the latest gear and more.