This Home Workout For Swimmers Will Get You Ready For Pools To Reopen
Grab a deck of cards for this fun workout routine that will help you smash your first swims when pools reopen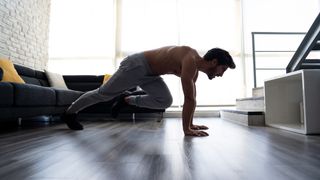 (Image credit: Unknown)
If there's one type of exerciser who has been hit especially hard by the COVID-19 pandemic it's swimmers. It might be a pain for gym-goers used to a well-stocked weights room to adjust to working out at home, but it's a whole lot tougher to conjure a swimming pool out of thin air.
Fortunately, you can become a stronger swimmer without getting wet in the slightest, and right now is the perfect time to focus on your supportive strength and conditioning work. Then, when pools do reopen, you'll be blazing a trail in the fast lane from the off.
This workout has been created by Scott Dickens, two-time Olympic swimmer and director of strategic partnerships at FORM, a company that makes smart augmented-reality swim goggles. Those goggles are of no use for this workout, but they are absolutely excellent as we found out when we reviewed them.
Home Workout For Swimmers
"In my dry-land training I try to focus on a combination of strength, endurance and cardio," says Dickens. "One of my favourite ways to incorporate different exercises is using a deck of cards.
"This workout can be adjusted to focus on the entire body or one muscle group. I love this workout because it will help build up that endurance and stamina so you can get the most out of your first swims back in the pool."
How To Do This Workout
Each suit in your deck of cards represents a different exercise, which you pick from the list below. Shuffle the deck, pick a card and do the amount of reps it shows of the exercise you picked for that suit – aces are low and all face cards are 10 reps. You'll be going through the whole deck and completing a total of 85 reps of each of your four chosen exercises in total. Take ten to 20 seconds of rest between each card.
"With dry-land routines it's important to remember to be purposeful when designing your workout," says Dickens. "Choose an area of your fitness that you know you'd like to improve on and pick exercises that will help you achieve those goals."
See related :
Spades – Lower body
Hearts – Upper body
Diamonds – Core
Clubs – Cardio
Sign up for workout ideas, training advice, reviews of the latest gear and more.