How Top PT Bradley Simmonds Trained For The London Marathon
The good news is that even fitness experts find long-distance running hard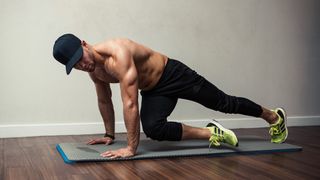 (Image credit: Unknown)
As one of London's top personal trainers Bradley Simmonds (opens in new tab) is no stranger to breaking a sweat, but even for an ultra-fit man like him, taking on the London Marathon presents a mammoth challenge. For an inside look at how a fitness expert tackles the ups and downs of marathon training, Coach caught up with Simmonds in the final weeks before the big day.
Have you run a marathon before?
This is my first marathon. To be honest, a marathon was something I never thought I'd do. Long distance isn't something I've ever been very good at, but I was given the chance to do the London Marathon and I realised it was a challenge I really wanted to do.
Did you follow a strict training plan?
I want to get a good time, so my training has been pretty strict. I've been doing 5 to 10K runs in the week alongside interval sprints on a treadmill and on the weekend I go for my longer runs. The first few weeks I did ten miles and then I started to add more and more miles each week up to 15-20 miles.
RECOMMENDED: Marathon Training Plan
How have you changed your diet to support the extra running?
I've definitely added a lot more complex carbs to my diet, alongside protein to help the body recover. With running, especially long-distance running, you need long-lasting energy so you need complex carbs. Before, my training was quite high-intensity so I didn't really need that.
What foods do you go to for carb-loading?
I wouldn't say I carb-load – I still eat very balanced meals with protein and vegetables. I'll just add a few more carbs than usual.
I go for brown rice, quinoa or sweet potato. I try and stay away from the simple carbs – white pasta, white bread – just because they give short bursts of energy rather than the long-lasting energy you get from complex carbs.
What has been the hardest part of training?
The recovery. My body isn't used to long-distance running. For me the hardest part was being able to recover quickly and go for another run.
As I've got fitter I've got used to it but to start off with, I almost hit a brick wall. I really felt it in my hip flexors, my glutes and my shins.
Where are your favourite places to run in London?
I like to mix it up. For my shorter runs I run locally. To do a 10K I run round three parks in my local area, Ealing. When I do my 5Ks and 10Ks it's good to be on the flat.
For my ten-mile runs I go to Richmond Park. From my house to Richmond Park, around it and back is ten miles in total. That's very hilly and requires a lot more leg strength. It definitely helps my endurance which will make the flat runs a lot easier. What's the saying? "The harder you train, the easier the fight." If you run around Richmond Park twice, which is 14 miles uphill, you're going to find 20 miles on the flat easy.
It's also amazing running around Richmond Park because of the wildlife and the scenery, and the air isn't so polluted.
I also liked running down the River Thames. I'll go from Chiswick all the way to Westminster. On the last few miles I'll start racing buses. That's my competitive streak on display. I know at the London Marathon I'm going to see someone ahead of me and I'm going to want to go past them. Then I'll see someone else ahead of me and I'll want to go past them. That's what's going to keep me going.
Did you use a wearable to support your training? And if so did it help?
The new TAG Connected watch is amazing. It has loads of different apps on there to help with my distance and it's very comfortable, which is really important when you're running. You don't want something heavy or annoying. It's very light and easy to wear, and looks good, which always helps the outfit!
RECOMMENDED: The Best Fitness Trackers And Apps For Your Marathon Training
Do you have a target time in mind for the marathon?
I definitely want to get under four hours. I'm pushing myself to get 3hr 30min – that's what I'm training hard for. If I get under four hours I'll be happy, but I'll be delighted with 3hr 30min.
Are you a convert to long-distance running now?
Definitely. I've seen a huge difference – my body fat percentage has gone down massively – and I feel a lot fitter when I do my boxing now. The long-distance running has definitely helped my cardio.
I probably won't carry on doing 16 miles but I'll definitely continue with my 10Ks to keep my body fat percentage low.
The TAG Heuer Connected Modular 45 is available at The Watch Gallery (opens in new tab)
Get the Men's Fitness 28 Day Fat Loss MagBook (opens in new tab), with a training plan from Bradley Simmonds
Sign up for workout ideas, training advice, reviews of the latest gear and more.