Training Tips For The Final Four Weeks Before The London Marathon
What should you be doing one month, one week, and one day away from the race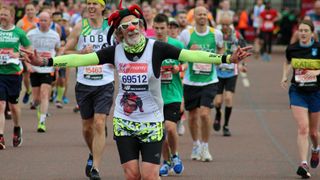 (Image credit: Unknown)
The London Marathon is less than one month away. If that doesn't both excite and terrify you, it's probably safe to assume you're not running it.
If you are running it, there are probably a couple of things running through your mind right now. The first is "HOW CAN IT BE SO SOON?!" and the second is "How long before I get to taper?"
The good news is that the tapering – reducing the amount of running you do in order to be fresh for race day – can start soon. There are one or two more long runs to tick off before that happens, but you're definitely over the hump as far as your training plan's concerned.
Alongside a little more running, there is plenty of other prep to be done before you line up at the start. This includes settling on the kit you're going to wear, then changing your mind several times before going back to your original choice, which hopefully you'll have been testing during your longest training runs. You'll also be finalising your nutrition plan for the big day and then, in the days before the race itself, consuming a boatload of carbs. That last part is the really fun bit.
This year it's also vital to pack your kitbag earlier than usual because it will need to be dropped off at the Expo in the days before the marathon, rather than by the start line on the morning of the race.
For all the advice you need on what to do during the final four weeks before the London Marathon, here's running coach Nick Anderson from Running With Us (opens in new tab), Polar (opens in new tab)'s official training partner.
Four Weeks To Go
"This is when you get the voices in your head, making you think, 'Have I done enough training to successfully finish this marathon?'" says Anderson. "This is a common worry in the final weeks, but it is important to remember that less becomes more. It's time to let the body start to recover and build its strength for race day."
"You should start focusing now on protecting your fitness and feeling great on race day. You can use the final weeks to sharpen up slightly with a couple of shorter, faster sessions."
That doesn't mean skipping your Sunday long runs, however. Anderson recommends scaling down the final few.
"Your longest marathon training run should take place three or four weeks out from race day. Aim for a three-hour run, with the last 60 minutes at your target marathon pace.
"Two weekends before the marathon, reduce the long run to about two hours with the last 45 minutes at target marathon pace.
"One week before, it's time to shorten your runs and enjoy tapering. I would recommend not going over a 60-minute run."
See related
One Week To Go
Tapering is in full swing at the point, but that doesn't mean you should be sitting on the sofa all week.
"Don't taper too much – you don't want to have too many rest days and then feel sluggish by race day. Your body loves routine, so aim for short and easy runs that are no longer than 60 minutes long.
Aside from running, don't go too hard in the gym and get some early nights.
"Avoid heavy strength and conditioning or gym work this week to let your muscles recover," says Anderson.
"Sleep and rest – you always need to respect this key element as a runner if you want to improve. Try to get a few early nights in race week and protect your immune system – late nights and picking up a cold will wreck race day."
The Final 24 Hours
Your "maranoia" will peak at this point, especially if you're a first-timer, but follow these three tips from Anderson and your nerves should settle a little.
"We often advise runners to jog for around 20 minutes the day before the race and stretch. It helps you to feel loose on race day and can calm the nerves a little.
"Snack on small meals throughout the day and stay well hydrated. Eat your last main meal at 6-7pm and snack on easily digested carbohydrate snacks afterwards if needed.
"Get to bed early! If you find it hard to sleep don't worry, this is normal, but stay in bed and rest, read and relax."
Nick Anderson is co-founder of Running With Us (opens in new tab) and head coach for Polar (opens in new tab)
Sign up for workout ideas, training advice, reviews of the latest gear and more.