How Much Marathon Training Do You Need To Do To Hit Your Goal Time? Strava Knows
Get crowd-sourced advice on the weekly mileage and number of runs you should do to smash your marathon goal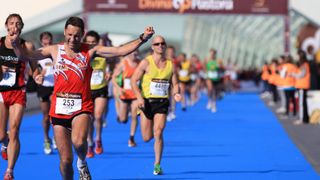 (Image credit: Unknown)
There is no perfect way to train for a marathon. Different runners can succeed with different approaches, and often the amount and type of training you do will be dictated by your own individual circumstances. That said, it's certainly no bad thing to check out what other runners are doing, especially those that have achieved a time target you are aiming for.
Fitness tracking app Strava is one of the best sources for this kind of information. You can browse the training logs of millions of other runners, including pro athletes, to see what they've been doing. And when you put all that data together, you get a pretty clear picture of the approach successful marathon runners tend to take with their training.
Strava has accumulated the data of male and female marathon runners who have hit times ranging from sub-three to five-plus hours and looked at how they trained in the 12 weeks leading up to the race.
The data is broken down by weekly mileage, the number of runs per week, and the average pace of those runs. It's no surprise to learn that faster runners cover a greater distance in their training, with sub-three male runners averaging around 60 miles (96.5km) a week and female runners around 50 miles (80.5km). If you're looking to chalk up a sub-four marathon this year, Strava shows the average weekly distance of runners who have achieved this is around 32 miles (51.5km) for men and women, while a sub-five marathon involves 20-25 miles (30-42km) a week on average for men and women.
See related
The number of runs per week can be skewed a bit, especially as faster runners have a habit of recording warm-ups and warm-downs separately from an interval or tempo workout, which may be why sub-three men average eight runs a week. In general, however, the Strava data suggests that for every hour faster you get on race day, you're adding one training run per week. So sub-four men and women do around four runs a week, sub-five do three, and five-plus runners do two to three.
As for building up your mileage and tapering before the race, the Strava stats show that most runners only take one or two weeks to hit their overall average distance per week and stick with it until two to three weeks before the marathon itself, when the distance starts to come down.
We'd caution that these stats aren't enough to base your entire plan on. It's important to remember that if you're not doing anything like the mileage listed, you shouldn't suddenly up it; instead, add 10% to your own total week by week to increase it gradually and reduce the risk of injury.
It's also important to recognise that not all running is the same. You'll need a variety of runs in your week, especially when you get to the faster times. So a six-run week will typically include three easy runs done at a pace much slower than your goal marathon pace, one interval session with short sections at faster than marathon pace interspersed with ever shorter rest periods, a tempo run at around or just below marathon pace, and a long run taken fairly easy. Even if you only do three runs a week, it's important to mix up the types of running you do to get the best results – check out our free marathon training plans for more in-depth advice.
Sign up for workout ideas, training advice, reviews of the latest gear and more.