Jordan Stephens From Rizzle Kicks On The Benefits Of Attending A Retreat
Stephens spent six days at The Bridge Retreat, which he calls a life-changing experience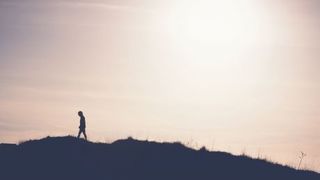 (Image credit: Unknown)
Even if you're aware of the importance of discussing your emotions and mental health, it is still a big step to actually open up and start talking. Attending a retreat dedicated to help you connect with your underlying emotions, then, is likely to feel like a huge step, but it's a commitment to improving your mental health that can be life-changing.
Jordan Stephens of hip-hop duo Rizzle Kicks accepted a complimentary place at The Bridge Retreat (opens in new tab) to help him open up about his emotions and past trauma, something he thinks can be tough for men because of the pressure society places upon them.
"I went through a break-up last year," says Stephens, "but it was a little bit bigger than the immediacy of that situation. It was dealing with emotions and wounding that I'd experienced growing up and since becoming famous."
"I've been part of campaigns and spoken out about this stuff in the past, but the most powerful piece of writing I did was deconstructing my own existence and being very truthful about the privileges and toxicity that weren't necessarily my own, but that I believe had been hard-wired into me by society. In film television, media, role models – that kind of thing.
"I was choosing to approach my sadness by sitting in it. I found the process very difficult. It took me to the very depths of my existence. I channelled a lot of my pain creatively – I was really trying to get the toxicity out of me. I came across The Bridge about that time. And I was brought into the path of Donna Lancaster, who runs The Bridge alongside Gabi Krueger. I went to a one-day workshop on relationships in Shoreditch and I really got along with her. I think she is an incredible woman, and we shared a similar idea about what it was in terms of my gender I was trying to break through, and the conditioning that was preventing me from truly understanding myself."
RECOMMENDED: Jack Urwin on Toxic Masculinity
Soon afterwards Stephens attended a six-day retreat with The Bridge, and though he was keen not to give too much away about what happens at the retreat itself, he was unambiguous about the significant effect it had on him.
"It transformed my life," says Stephens. "I don't want to divulge too much information, because if you do it then knowing less about it is beneficial, because you're not unconsciously preparing yourself for the experience. It's kind of like reading a review before seeing a film. But I'd like to give enough information to encourage people to go, because I've never known six days to be so transformational in terms of someone's idea of themselves."
"You're in a group of eight to 14 people, of all different races, creeds, classes, from different countries. By the end of the programme, I swear I had fallen in love with this group of people. Vulnerability is true intimacy and you only realise that when a few days after meeting total strangers, you feel like you've known them for years. It's incredibly powerful.
"There are no phones or laptops allowed so there's nothing to distract you. You experience emotion, in solitude and in groups. The six days are set up in a particular way to non-abrasively massage out trauma and things we've decided to lock away for our own safety, which have been manifesting in our lives in other ways."
Stephens suggests that this can be an incredibly important process for men in particular.
"My opinion is that for men, emotion is projected in a different way from women. That's a big generalisation, but purely based on the fact that society dissuades openness in emotion for men. Obviously it's not just for men, it's beneficial for everyone, but I found that you're tapping into something you as a man haven't been allowed to see. Again that's a generalisation, but there is this undertone of the way men interact with each other in groups, and with their fathers, and the way they're seen on television and stuff."
"A lot of the week is getting into your body and asking how you're feeling. By the end of the week you feel lighter, physically lighter – it's bizarre! They say 'a weight off your mind', but I mean it's a weight off everything. It's very special."
Naturally, attending a retreat won't stop hurdles cropping up in your life, but Stephens believes he now has the means to deal with problems in a more positive way.
RECOMMENDED: How To Tell If You Should See A Doctor About Your Mental Health
"The major shift is in how I experience my emotions, anxieties and frustrations," says Stephens. "You're brought into a state of consciousness where you can be aware of what they are and you can put in preventative measures so they don't totally ruin your day."
"And it can be a tool for all relationships – romantic, family, work. You notice your interactions with a person. Someone might say something that hurts you, but the second you understand what it is that you're projecting into that situation, you can choose to not be hurt by it.
"It's a lot of work, but it's the most beneficial work anyone can ever do – inner work on yourself. For people to be walking around, equipped with the means to move towards living peacefully within their own world, is great. Who doesn't want that?"
Coach spoke to Stephens about ten days after he got back from The Bridge, so we wanted to know whether he thought what he'd learned would stick with him six months down the line, or even further into the future.
"You can't unlearn it," says Stephens. "I'm not naïve enough to think I'm going to be walking around jolly all the time, but I have tools to deal with things now. Now if I go into any awful experience, or experience more grief or loss or tragedy, I'm not saying I'm going to be fine, but it does mean I have a better understanding of how to work through it healthily."
Sign up for workout ideas, training advice, reviews of the latest gear and more.