Are You Stress Eating During The COVID-19 Pandemic?
If your diet has taken a turn for the worse of late, you could be stress eating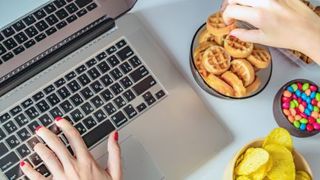 (Image credit: Unknown)
We're living in stressful times, and one of the results of that for many people has been an unhealthy change to their diet. A new survey commissioned by the British Nutrition Foundation has found that 27% of people are eating less healthily than usual during lockdown, and 45% said that stress, anxiety or tiredness is one of the main reasons they were eating more.
Stress eating doesn't just occur during the COVID-19 pandemic, however. It is something that can hinder attempts to eat a healthy diet at any time. We spoke to Helena Gibson-Moore, nutrition scientist at the British Nutrition Foundation, for more information on stress eating and what you can do about it.
What is stress eating?
Stress-related eating, sometimes called comfort eating, is a type of disordered eating pattern when someone uses food as a means of coping with a stressful experience, rather than just eating in response to internal cues of hunger. This type of behaviour can lead to overeating and consumption of foods that are high in calories, fat or sugars, which over time can cause people to become overweight or obese.
How common a problem is it? Is it more common in men or women?
Although it's unclear exactly how many people are affected by this type of eating behaviour, some people appear to be more susceptible to it than others. Stress-related eating seems to be more common in women and people with obesity, compared with men and those of normal weight.
What are the main causes of stress eating?
Stress can cause psychological and physiological changes in the body that may lead to someone seeking foods high in fat and sugars, as well as changes in the regulation of appetite hormones that may increase appetite and promote weight gain. Stress can also cause lack of sleep and reduce motivation to be active, which could also be associated with weight gain.
During the COVID-19 pandemic, many of us are experiencing more stressful situations than we did before – and as our recent survey suggests, stress may be one of the main causes of unhealthy eating habits during lockdown.
See related
What are the best ways to tackle the problem?
If you feel you are eating more unhealthily during this time then there are some things that may help – like having healthy snacks readily available, such as a fruit bowl on the table, and resisting the temptation to buy foods high in fat and sugars. If you find you're snacking when you're not hungry then try to distract yourself by doing something else like taking a walk, trying a new hobby, reading a book or calling a friend. You could also try some stress management techniques such as meditation or yoga.
If you're still struggling to control your eating habits and feel you need extra help, get in touch with your GP who can refer you to a qualified healthcare professional.
Sign up for workout ideas, training advice, reviews of the latest gear and more.