The Best Brooks Running Shoes For Every Type Of Runner
From the comfiest shoe around to some of the quickest, Brooks has every runner covered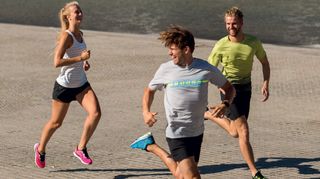 (Image credit: Brooks)
Unlike behemoths such as Nike and Adidas that cater to the footwear needs of all kinds of sportspeople, Brooks is solely about running. This focus has allowed it to create some of the best running shoes for every type of runner, whether you're looking for a soft and cushioned ride or a firm and fast one.
There's a useful shoe finder tool on the website, which will make personalized suggestions based on the feel you want and how much and how far you run, but for an overview of the key styles stay right here. I've been testing a range of Brooks shoes for several years and can guide you in the right direction.
How I Test Brooks Running Shoes
I am a keen runner who logs around 50-70 miles each week, usually while training for a marathon. I have tested Brooks shoes for many years, allowing me to try several generations of popular lines like the Ghost and Glycerin, along with faster shoes in the Hyperion line and many others.
The Best Brooks Running Shoes
Best for beginners
Specifications
Weight:
10.4oz/297g (UK 9)
Stack:
35mm heel, 23mm forefoot
Reasons to buy
+
Comfortable
+
Durable
+
Outsole grips well
Reasons to avoid
-
Lacks versatility
-
Ride is dull
The Brooks Ghost is one of the most dependable shoes available, and while it's not the most thrilling, it is protective, stable and durable, making it a great option for runners just starting out in the sport. It's not just for beginners either: the cushioned design makes it a good easy run option for more experienced runners, though I do prefer other cushioned shoes, both from Brooks and other brands.
While the latest version of the Ghost is decent value thanks to the long-lasting design, if you can find a good deal on the Ghost 14 then that might be worth snapping up, because I didn't find the Ghost 15 offered a huge upgrade on the 14.
Read more in our Brooks Ghost 15 review
---
Best cushioned shoe
Specifications
Weight:
11oz / 314g (UK 9)
Stack:
34mm heel, 24mm forefoot
Reasons to buy
+
Exceptionally comfortable
+
Long-lasting outsole
Reasons to avoid
-
A bit heavy and awkward for fast running
The Brooks Glycerin is one of the best cushioned shoes you can get from any brand, and probably my favorite shoe overall from Brooks. There have been some past generations in which it wasn't that different from the Ghost, just a little softer, but the Glycerin 20 is very different from the Ghost 15 thanks to the nitrogen-infused DNA Loft v3 foam used in the midsole.
This delivers a comfortable but surprisingly versatile ride, and if you can stomach the extra cost of the Glycerin, it would be my pick for pretty much any runner. It's still stable despite the fairly high stack of foam, and also highly durable.
Read more in our Brooks Glycerin 20 review
---
Best all-rounder
Specifications
Weight:
8oz / 226g (UK 9)
Reasons to buy
+
Lightweight and speedy
+
Enough cushioning for easier runs
+
Cheaper than Hyperion Max
The Hyperion range contains Brooks's speedy shoes, and the Hyperion Tempo is billed primarily as a fast training shoe for interval and tempo runs. However, if you don't mind a firmer-feeling shoe, it's actually a capable all-rounder that I found enjoyable to use for easy runs as well as speed sessions. The DNA Flash foam used in the midsole is very light and while it's not as soft and springy as so-called super-foams from other brands, it has enough pop for fast runs while being comfortable enough on easy runs.
Read more in our Brooks Hyperion Tempo review
---
Best fast training shoe
Specifications
Weight:
7.65oz/217g (UK 9)
Reasons to buy
+
Very light
+
Some will prefer plateless design
+
Responsive midsole
Reasons to avoid
-
Lacks the punch of plated shoes
-
Firmer ride
-
More expensive than competition
The Hyperion Max is similar to the Tempo in many ways: it's a speed-focused shoe without a plate in the midsole that's versatile enough for easier runs as well. However, it's more expensive and lighter than the Tempo, which is why I rate the Tempo as a better workhorse all-rounder and believe the Max is best saved for speedwork, especially because the Tempo has more rubber coverage on the outsole which will help with durability.
Another difference between the two is that the Max has a more rockered design and, in theory at least, more cushioning in the midsole, hence the max in the name. However, the Hyperion Max is not a max-cushioned shoe by most brands' standards, which helps it feel agile and light during speedwork, although it does mean it's not the most comfortable for extended easy runs.
Read more in our Brooks Hyperion Max review
---
Best carbon plate running shoe
Specifications
Weight:
7.9oz / 223g (UK 9)
Reasons to buy
+
Lighter than Hyperion Elite 3
+
Fast and stable ride
+
Now in sales
Reasons to avoid
-
Midsole foam less soft and bouncy than rivals
-
Collar can rub the achilles
-
High price pits it against better racing shoes
Brooks has yet to make a racer that really competes with the best carbon plate running shoes, and for now if you want to use a Brooks racer I'm inclined to suggest seeking a deal on the Hyperion Elite 2 rather than getting the newer Hyperion Elite 3. I've just started testing the latter shoe, which has a better upper, but is also heavier than the 2 and doesn't seem to add any real performance gains so far.
The DNA Flash foam in the midsole is light and, in combination with a carbon plate, it produces a fast ride that's also more stable that you'll find with other super-shoes. The Elite is the fastest shoe Brooks makes, but it doesn't have the same bounce or propulsion you can get from other brands.
Read more in our Brooks Hyperion Elite 2 review
Sign up for workout ideas, training advice, reviews of the latest gear and more.