The Best Saucony Running Shoes For Every Type Of Runner
Whether you're looking for your first running shoe or a racer to help you set PBs, Saucony has an option for you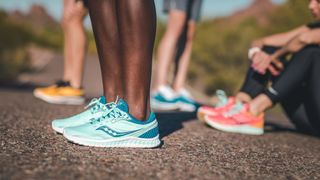 (Image credit: Saucony)
Even if you've never worn Saucony shoes before, it's a brand you should be considering if you're in the market for a new pair of running kicks. That's because the American company has been firing out some of the best running shoes going in the past couple of years.
Saucony has a couple of the best carbon plate running shoes on the market in the Endorphin Pro 3 and Endorphin Elite, and my favorite all-round running shoe of the last few years is the Endorphin Speed 3. However, the brand excels in more than just speedy shoes: It also has a variety of cushioned running shoes for daily training, plus several top-notch trail shoes.
I've been running in and reviewing Saucony shoes for several years and have picked the best options for different types of runner below. It should be noted that none of the options below are especially cheap but many of them are the latest in a long-running line, so you will be able to find past editions of the shoe—or even the latest one—in sales, often with sizable discounts. Check our best budget running shoes page to keep up with prime deals.
How I Test Saucony Running Shoes
I usually run 50-70 miles a week in training on a mix of roads and trails, and race regularly to test shoes. I have a marathon PB of 2hr 28min and I'm always working hard to try and bring that time down with a structured training plan full of different types of runs, which makes it easy to rigorously test Saucony's shoes for the purposes they're designed for.
The Best Saucony Running Shoes
Best all-rounder
Specifications
Weight:
8.5oz / 240g (UK 9)
Stack:
36mm heel, 28mm forefoot
Reasons to buy
+
Smooth, fast and efficient ride
+
More stable than past versions
+
Comfortable on easy runs
Reasons to avoid
-
Not vastly different from predecessor
Since I tested the first Endorphin Speed it has been a fixture in our best running shoes line-up as the best all-rounder available from any brand. It's a comfortable shoe that you can use to cruise through easy runs, though it really comes alive during interval and tempo runs, and can be used for races as well. I once used it for a double day running a 5K race in the morning and an hour recovery run in the afternoon. Very few shoes are capable of handling both those runs as well as the Endorphin Speed.
The Speed 3 is wider and more stable than its predecessors, which should make it a better option for many runners who struggled with the slightly narrow fit of the Speed 2. It uses the same PEBA-based PWRRUN PB foam as the Endorphin Pro 3 carbon shoe, but has a nylon plate instead of a carbon one with the aim of being more comfortable and less stiff for daily training.
Read more in our Saucony Endorphin Speed 3 review
---
Best for beginners
Specifications
Weight:
10.3oz / 293g (UK 9)
Stack:
37mm heel, 27mm forefoot
Reasons to buy
+
Comfortable
+
Improved upper
+
Good outsole
Reasons to avoid
-
Better-value options available
I have a lot of affection for Saucony's Triumph line—an earlier model was the shoe I used most when first starting out in the sport. The latest version is one of the best cushioned shoes available from any brand. What makes it stand out for beginners, however, is the balance of comfort and versatility it has, making it a great all-rounder for new runners.
The Triumph 21 affords the legs good protection thanks to the large stack of cushioning in the midsole, though it has enough pop to pick up the pace, and will work well for runners tackling their first long-distance events. The main drawback is its high price. If you can find the Triumph 20 in a sale then consider buying it; the only upgrade with the 21 is its new upper, which is a small improvement in fit and breathability but not worth spending considerably more on.
Read more in our Saucony Triumph 21 review
---
Best value racing shoe
Specifications
Weight:
7.65oz / 217g (UK 9)
Stack:
39.5mm heel, 31.5mm forefoot
Reasons to buy
+
Bouncy and comfortable midsole
+
Lighter than predecessor
+
Efficient ride from Speedroll rocker
The arrival of the top-of-the-range Endorphin Elite racing shoe means that runners may now overlook the Pro 3, but that would be a mistake. I found the Pro 3 more comfortable than the Elite and many runners will find it has a more accessible ride than the fairly harsh Elite, with a difference in top-end speed that's wafer-thin. Many runners will prefer the more comfortable Pro 3 for longer races in particular.
The Endorphin Pro 3 has a much lower RRP than the Elite, and has been available in sales for half that RRP, so it's certainly better value than the newer shoe. The Elite has the edge on pure speed, especially for 5K and 10K, and some runners will prefer the direct ride for any distance—but if you're on the fence, making a significant saving by opting for the Pro 3 is probably the smart choice.
Read more in our Saucony Endorphin Pro 3 review
---
Best racing shoe
Specifications
Weight:
7.7oz / 219g (UK 9)
Stack :
39.5mm heel, 31.5mm forefoot
Reasons to buy
+
Very fast ride
+
Light and agile
+
Bouncy PWRRUN HG midsole
Reasons to avoid
-
Firmer than Pro 3
-
Very expensive
There are a lot of caveats to note with the Endorphin Elite. The two biggest are that it has a pretty harsh ride and is very expensive. However, for pure speed it's the best racer Saucony has made, and I found it to be a truly exhilarating shoe to lace up for races and fast training sessions.
The Elite uses a bouncier, firmer foam than the Endorphin Pro 3, and has a more aggressive rocker that propels you onto your toes. It's fast and efficient, but beats up your feet more than the comparatively relaxing ride of the Pro 3. All in all the Pro 3 is probably the better buy for most runners, especially considering the prices involved, but for some the allure of a rocket launcher like the Elite will be hard to resist.
Read more in our Saucony Endorphin Elite review
---
Best daily trainer
Specifications
Stack:
35mm heel, 27mm forefoot
Reasons to buy
+
Lighter than Ride 14
+
Versatile, comfortable ride
Reasons to avoid
-
Not as speedy as Endorphin Speed
-
Some may prefer a softer ride
While I rate the Endorphin Speed 3 as the perfect all-rounder, some may find it too pricy and too race-y to use for all their daily training, or simply prefer not to use a plated shoe. The Ride 15 is another versatile option in Saucony's range that will handle all your training runs well, even if it's not as well suited to speedwork as the Endorphin Speed.
The Ride 16 is now available and though I have not tested it yet, it looks a similar shoe to the Ride 15, so picking up whichever of the pair you find available for less is probably your best bet.
Read more in our Saucony Ride 15 review
---
Best trail-racing shoe
Specifications
Weight:
9.5oz / 268g (UK 9)
Stack:
35mm heel, 29mm forefoot
Reasons to buy
+
PWRRUN PB midsole with carbon plate
+
Outsole grips well
+
Light
Reasons to avoid
-
Stiff on uneven ground
-
Lighter shoes may be better for short races
-
More expensive than rivals
Like the excellent Endorphin road shoes, the Endorphin Edge has a PWRRUN PB midsole, Saucony's Speedroll rocker geometry and a carbon plate. To adapt the shoe to the trails, Saucony has used a Carbitex carbon fiber plate, which is more flexible than plates used in road shoes and so better suited to running on uneven ground. The Edge also has a more aggressive outsole to provide grip on varied terrain, and the upper is more protective than the thin mesh materials used on the Speed 3 and Pro 3.
I only really felt the benefits of the plate and rocker in the Edge on relatively tame, hard and even trails, but it does provide a boost on those and it grips well and feels nimble enough on more technical tracks. It's one of the best trail-running shoes available, and the best carbon shoe we've come across for off-road races, though the Hoka Tecton X2 is a close second and better on certain terrain.
Read more in our Saucony Endorphin Edge review
---
Best stability shoe
Specifications
Weight:
9.8oz / 279g (UK 9)
Stack:
36.5mm heel, 28.5mm forefoot
Reasons to buy
+
Versatile
+
Stability features are subtle
+
Comfortable
Reasons to avoid
-
Not a looker
-
Cheaper options available
The Tempus is another shoe that not only tops its category within Saucony's range, but is also the stand-out pick on the market at large. It's a stable shoe that any runner will enjoy using, thanks to the midsole set-up that creates a bouncy, comfortable and stable ride that works well for a variety of training runs.
Instead of using traditional stability elements like a medial post, the Tempus has a firmer frame of PWRRUN foam around a bouncy PWRRUN PB core, a combo that creates its versatile and enjoyable ride. My main criticism of the shoe is that it's quite pricy, and the Guide line from Saucony offers a cheaper option for stability-seeking runners.
The Tempus is my top pick in our round-up of the best stability running shoes, where you can also find out more info on this type of shoe in general.
Read more in our Saucony Tempus review
---
Best all-round trail-running shoe
Specifications
Weight:
10.5oz / 298g (UK 9)
Stack:
32.5mm heel, 26.5mm forefoot
Reasons to buy
+
Bouncy, comfortable midsole
+
All-terrain grip
+
Light for this level of cushioning
Reasons to avoid
-
Lighter, speedier options available
-
Not the best in thick mud
Once again Saucony has knocked it out of the park. The Xodus Ultra 2 is a versatile trail shoe that has become my favorite off-road option from any brand. It has Ultra in the name, and it's designed to be comfortable over very long distances, but I enjoyed using it for pretty much any kind of run. Short, long, fast or slow, the Xodus Ultra 2 is terrific.
It has a similar midsole set-up to the Tempus road shoe, with a frame of firmer PWRRUN foam for stability, and a core of PWRRUN PB to deliver some bounce and help make the shoe pretty light considering the 4.5mm lugs on the outsole. Those lugs grip well on any surface except deep mud, where the Saucony Peregrine 13 would be a better option.
Read more in our Saucony Xodus Ultra 2 review
---
Saucony Kinvara Pro
A more accessible carbon plate shoe
Specifications
Weight:
10.7oz / 303g (UK 9)
Stack:
42mm heel, 34mm forefoot
Reasons to buy
+
Comfortable
+
Stable
+
Fairly versatile
Reasons to avoid
-
Heavy
-
Don't really feel the plate
-
Expensive for what it is
The Kinvara Pro has little in common with the classic Kinvara, which is a lightweight, low-drop shoe that eschews all the bells and whistles of modern trainers. The Pro version embraces those bells and whistles, with a ¾-length carbon plate and a high midsole stack that contains two different foams, with Saucony's bouncy PWRRUN PB material as the top layer.
I didn't love the Kinvara Pro. I found it heavy, and less enjoyable than the Endorphin Speed 3 for any kind of run. However, if you feel the Endorphin Speed or Pro shoes are too unstable and/or uncomfortable for you, the Kinvara Pro may be a more accessible carbon-plated alternative for a variety of runs.
Sign up for workout ideas, training advice, reviews of the latest gear and more.