Three Unusual Running Challenges To Try In London
Collect blue plaques, visit Monopoly stops or cross every bridge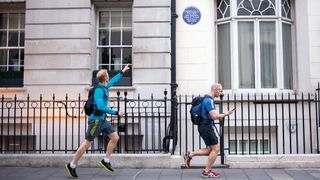 (Image credit: Unknown)
Photograph: James Carnegie
Think back to the last weekend you did something really memorable. A weekend when you didn't just go to the pub, run in the park or sit in front of the TV watching sport for two days. A weekend when you did something that you were desperate to talk about on Monday, even if no-one wanted to listen.
All of us should have more weekends like that, but coming up with the ideas for your mini-adventures is hard. Luckily, ultra-runner and adventurer Tobias Mews has filled an entire book with excellent activities for you to try.
"Having done over 200 races all around the world I began looking for challenges closer to home – ones that can be done any time, anywhere," says Mews.
"Inspired by iconic challenges like the Bob Graham Round (opens in new tab) in the Lake District and the Tour Divide (opens in new tab) in North America, I began to create my own adventures, from small ones that could be done before or after work, like racing the commute, right through to long-term burners like racing to space [metaphorically, we're pretty sure].
"They're meant to be fun, free, accessible and as difficult as you want to make them!"
Mews' book GO! is chock-full of inspiration when it comes to active adventures, from one-hour jaunts around the city you live in to month-long trips through the wilderness. We were particularly taken with a few of the shorter, more accessible activities on offer. Here are three cracking ideas from GO! to help Londoners escape any ruts that might have formed in their fitness routine.
60-Minute Challenge – Blue Plaques
Explore your local London neighbourhood by visiting as many English Heritage blue plaques as you can in the space of an hour. There are over 900 across the capital, so break down the area you're going to cover by postcode or similar. You'll be amazed at how much distance you can clock up in 60 minutes of plaque-hunting. It's basically Pokémon Go, but instead of collecting colourful monsters you learn something interesting about the place you live.
You can find maps of London's blue plaques on the internet, or download English Heritage's dedicated apps, which even include guided walks that take in the plaques. The app is free and available on the App Store (opens in new tab) and Google Play (opens in new tab).
RECOMMENDED: The Six Best Lunch Runs In London
Run The Bridges
Most big cities grow up around rivers for the simple reason that humans have really enjoyed cultivating food and not dying of dehydration. You don't need to worry so much about that nowadays, but you can still take advantage of the river by taking this excellent bridge-based challenge.
All you need to do is pick a number of bridges to cross on a run and set off, although it's undoubtedly wise to work out the finer points of the route because you won't always be able to stick by the river for guidance. There are at least 35 bridges to use in London and doing all of them is only an option for the hardiest ultra-runners. One fine route is the one Mews used in GO! – a 23km run that crossed 16 bridges from Putney to Tower.
RECOMMENDED: The Best UK Running Events For 2017
Monopoly
A version of Monopoly that won't lead to bitter arguments which develop into family grudges that endure for decades? Sign us up! Grab your trainers and a map with all the streets, stations and utility companies from the board game marked on it and see how long it takes you to visit them all. This will be a long time. Mews – an expert runner and pretty handy with a map – took six hours to cover 50km, so you might want to scale it back a bit. Maybe see how many stops you can hit in an hour, or just try to complete one side of the board. The other option is to tackle the whole board on a bike.
GO! An Inspirational Guide To Getting Outside And Challenging Yourself is available now for £16.99, published by Quarto Knows (opens in new tab). Also available on amazon.co.uk (opens in new tab)
Sign up for workout ideas, training advice, reviews of the latest gear and more.