How Many Of These London Running Challenges Can You Complete?
Explore the capital in new ways with these running challenges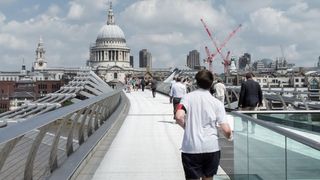 (Image credit: Unknown)
When you think of the great British running challenges, London is right up there with its marathon, but that's not all the capital has to offer – there are plenty of ways to break away from your regular route and stretch yourself and your legs. You can play Monopoly for one, and become the capital's greatest parkrun tourist for another. How many will you complete in 2019?
Run The Capital Ring
This 126km circular route does its utmost to show off the finest sights that inner London has to offer, taking in nature reserves and parks whenever possible. The Capital Ring is divided into 15 sections and the route is clearly marked throughout, though you can also download maps of each section from the TfL website and some clever Herbert has even marked up the route on Google Maps, which makes it easy to follow along if you take your smartphone with you. Obviously, this is one to break up and enjoy over the course of several weekends, with each of the 15 sections being between six and 14km long.
Do Every London Parkrun In A Year
There are (currently) 53 parkruns in Greater London, so you might think this is impossible since parkruns are held every Saturday morning. However, some years have 53 Saturdays (although not 2019), and every year you can supplement your parkrun tally with the extra events on Christmas and New Year's Day (it's also usually possible to do two parkruns back to -back on 1st January). Some highlights include Dulwich and Hackney Marshes, which are flat courses ripe for PBs; Bushy Park, the original parkrun which attracts crowds of over 1,000 each week; and Ally Pally, which is hilly but offers great views of London. And even if you don't think 53 in a year is a reasonable ask, shooting to do all of them in any period of time or simply as many parkruns as you can in a year is a fun challenge too.
See related
Cross The Bridges
There are a total of 35 bridges over the Thames in London and crossing them all in one go is a challenge that only ultramarathoners will contemplate. However, you can work through them in groups, or just stick to central London and cross the 13 bridges between Vauxhall Bridge and Tower Bridge.
Play Monopoly
All the streets and stations on the Monopoly board are within 4.5km of Trafalgar Square, which provides the perfect base to start a game of runner's Monopoly, where you aim to visit as many of the stops on the board as you can in 60 minutes. The Runner's Guide To London has three great ideas for scoring – either total stops visited (and photographed, for proof), the total value of those stops (head to Mayfair and Park Lane first), or the total distance of those stops from Trafalgar Square to reward those who venture further afield (the only reason to go to Whitechapel or Old Kent Road).
You can also simply visit every stop in one epic run and forget about a set time, but even though the distances between each might seem small, be prepared to rack up over a marathon's worth of running to see them all.
Complete The Thames Path
Well, the London bit, anyway. If you want to follow the Thames Path all the way to the source of the river in the Cotswold Hills you're looking at almost 300km, so we reckon sticking to the 128km section between Richmond and the end of the route at the Thames Barrier in Greenwich is wise. That's still a hefty old way, so it's worth tackling sections on different days, with the highlights including Hampton Court Palace, Barnes Wetland Centre and of course the many landmarks on the river in the centre of London.
Collect Blue Plaques
This idea comes from ultrarunner and adventurer Tobias Mews's book GO! An Inspirational Guide To Getting Outside And Challenging Yourself, which is full of fun ideas for outdoor escapades. Give yourself 60 minutes and run around London trying to find as many blue plaques as you can – there are over 900 in the capital. And make sure you read them – you'll learn some fascinating stuff. English Heritage's dedicated plaques app (App Store and Google Play) will show you where the plaques are and even has some guided routes that take in notable plaques.
Sign up for workout ideas, training advice, reviews of the latest gear and more.