How Running With A Blade Gives This Man A Sense Of Freedom
Adaptive athlete Jamie Gane says his life really started when his leg was amputated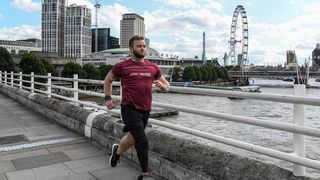 (Image credit: unknown)
What's the first thing that comes to mind when you think about running? Is it joining others at parkrun on a Saturday morning? Gasping your way through a sweaty run during your lunch break? Or maybe it's training for the London Marathon and all the excitement that surrounds that event.
For Jamie Gane, freedom is what comes to mind when he thinks about running. Gane, who is a member of the Asics Frontrunner group of ambassadors, spent most of his teenage years in a wheelchair, before eventually having his leg amputated. After which he was able to start running with a blade, something that changed his life for the better. You can see Gane in action ahead of the recent ASICS London 10K with his fellow Frontrunners in this video.
Gane's problems started when he was nine years old and on holiday at Disney World Florida.
"All of a sudden my feet collapsed from under me," says Gane. "I had to use a wheelchair for the rest of the trip. When I went back to the UK the doctors said they didn't really know what's going on but that I have a condition called plantar fasciitis. It's a really common condition that's just pain on the underside of the foot.
"I had surgeries and those surgeries led to more complications unfortunately. My left leg got to a manageable point, but my right leg just got a hell of a lot worse. I couldn't wear shoes or socks, couldn't get it wet, couldn't have bedsheets over it, it was too painful. My foot was blue/purple all the time and it was horrible. I was just in so much pain all the time."
Gane had around 25 surgeries to try and solve the problem by the time he was 16. At that point his doctors mentioned amputation might be a possibility down the line. Gane wanted to do it right then, but couldn't find a doctor willing to do it.
"It took me six years to find a surgeon willing to amputate," says Gane. "At one point I was meant to go in for an amputation, then one of the doctors didn't agree it was the right thing to do so they cancelled it ten minutes before the procedure. Eventually it was done in September 2016.
"That's when I feel my life started. My energy levels rocketed up. I wasn't in pain anymore. I started to wean off the medications I'd been on since the age of ten. My quality of life really started to increase."
After the amputation Gane started to look at walking with a prosthetic, but was frustrated again at being told he needed another operation before that was possible.
"I decided to go private for an opinion on whether I could walk on a prosthetic before the surgery. They said you do need this surgery but there's no reason you couldn't walk before then. I bought a prosthetic and they said I'd still need crutches for the first two weeks. About three days after getting my prosthetic leg I was walking unaided."
It didn't take long for Gane to look beyond walking to running, having already been a fan of obstacle course racing (OCR) using a wheelchair.
"I started OCR with a friend of mine who wanted to do a Tough Mudder. I was still in my wheelchair at that point, but I thought why not? I became very addicted very quickly. To date, I've done something like 68 Tough Mudders. I did a few in a wheelchair, then moved on to do some with a walking device that wasn't a prosthetic leg, then I walked around the course with a prosthetic leg, then I ran the course. I felt like I was part of a community, so I kept coming back for more."
Community is a key part of why Gane loves running, whether it's over obstacles or on the road, and it also gives him a sense of freedom.
"That's the word springs to mind – freedom," says Gane. "Having the opportunity to run is something I didn't think was possible. And the amount of people I've met through running, whether that's OCR or road racing, is just incredible. You're all running at different paces but no-one really cares. You run your own race and do your own training.
"I love having the opportunity to spend time just with myself, or be surrounded by people with a common goal."
See related
Along with running and OCR, Gane is also a keen practitioner of judo, which he started when he was just three years old. He had to stop when his condition developed, but after the amputation he was able to rekindle his love of judo.
"When I had my amputation I thought I want to get back into judo," says Gane, "but there's no provision at all for any amputees to do judo. As it stands I'm the only lower-limb amputee in the world to compete, and I do so against people with mild autism, ADHD, mild learning difficulties.
"I'm not allowed to wear my prosthetic leg when I compete, so it's not quite on a level playing field but I really love it and I'm currently ranked second in the world. I can't really complain!"
In the future Gane would like to compete with other amputees in judo, and he'd also like to see the playing field levelled in OCR as well.
"I've got the world OCR championships at the end of the year – that's four courses in four days – but I want to create a platform for adaptive athletes to compete," says Gane. "Currently to qualify for the world or European championships I have to qualify like any other athlete. I have to finish in the top five or ten or whatever against able-bodied people.
"As you can imagine this is really quite difficult to do! I ran a Spartan Race two months ago and there were about 100 people in my group and I finished 11th in 62 minutes, whereas the guy who finished first did it in about 59 minutes. So that's three minutes difference and I spent way more than three minutes adjusting my leg and having to do other things because of my disability. Creating a platform for others to be able to qualify inspires me to keep going."
Sign up for workout ideas, training advice, reviews of the latest gear and more.