What's It Like To Run The London Marathon With Sight Loss? Amazing!
Losing his sight hasn't stopped Mark Rogerson signing up for the London Marathon three years in a row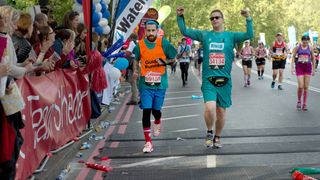 (Image credit: Unknown)
When complaining about how tough running is – and even the cheeriest runner has plenty of gripes – it's easy to take for granted how much is dependent on having good eyesight. That's not just the obvious, like enjoying the view and staying on the right track, but also pacing your runs correctly and being able to stick to a regular training schedule.
Mark Rogerson, 33, lost his sight suddenly in 2013 after an ophthalmologist found he had detached retinas in both eyes. Despite this, Rogerson is set to tackle his third London Marathon in a row in 2018 to raise money for the Royal National Institute Of Blind People (RNIB).
Given this admirable commitment you might assume that he was a keen runner already. Not so.
"It was only after I lost my sight that I started running," says Rogerson.
"I was inspired by my sister and my mum. After I lost my sight they did a half marathon to raise money for the charity that looked after me. I decided it maybe should be me who did the running, so I did a 10K and that's how I got into it."
Although he initially signed up just to raise money for charity, Rogerson quickly found that running provided other benefits.
RECOMMENDED: How To Get A Charity Place For The London Marathon 2018
"Once I got into it I found it was a good escape," says Rogerson. "It was hard dealing with the sight loss and running gave me something else to focus on. When you're out running you can clear your mind and think about what you're doing, rather than thinking about your problems.
"Running gives you that feelgood factor – after I finish I feel better about what I've done and better about myself."
Although Rogerson still has some sight in his left eye, his vision is not good enough to run without a guide, who ensures he has a clear and safe path to run along.
"I've got no vision in my right eye and no peripheral vision in the left," says Rogerson.
"I have some central vision in my left eye. What I can see is pretty clear, but it's just a narrow tunnel. Also I have light sensitivity, which means I have to run in dark glasses. I prefer it not too bright or dark – perfect conditions for me is a grey sky, which is probably just as well living in England!"
Sight loss also provides a challenge when trying to pace a run.
"Obviously a lot of people use running watches and running apps, but because my vision is poor, the last thing I want to be doing is sticking a watch right in front of my face," says Rogerson.
"That's one of the main problems and one of the ways guide runners come in handy, because they can tell you what sort of pace you're running at."
Rogerson ran his first London Marathon in 2016 with his sister Sarah as his guide runner and then ran with a friend, Mark Murray, in 2017. Murray, like so many other marathon runners, talked himself into the event during a night out.
"We were out and we'd had a couple of drinks," says Murray. "The more drinks I had, the more confident I got that I could definitely do a marathon.
"Mark texted the morning after to say we are doing the London Marathon. I couldn't go back on it – I was hungover and I had to run the marathon!"
Despite the inauspicious start to his marathon journey Murray enjoyed the experience of guiding Rogerson through the run.
"As difficult as it was, the run itself was an amazing experience," says Murray. "The people of London are unbelievable. At one point someone offered me a slice of pizza! It's not exactly what I needed at the time, but it was nice to be offered.
"You watch it on TV and it's just not the same. Every person you go past, they're shouting your name, they tell you to keep going when you're struggling."
As you'd expect given that he's signed up for three years in a row, Rogerson is similarly enamoured of the London Marathon.
"It's just the whole atmosphere of the race," says Rogerson. "I just love it. And I like having that goal, because I am quite lazy really and I need something to focus on."
However, the sheer volume of people at the London Marathon presents a challenge to Rogerson and his guide runner.
"Having to pick your way through the crowd sometimes is difficult, especially when people get tired and they're having to walk," says Rogerson.
"Trying to manoeuvre through the people, trying to keep Mark with me – that was difficult," says Murray. "Especially at the beginning when there's so many people around you."
The key to being a good guide runner in these situations, according to Murray, is a loud voice.
"You just have to make sure Mark has a clear way – to shout at people to move out the way," says Murray. "You definitely have to make sure you're heard!"
Whether you got a place in the London Marathon ballot or not, there's a spot on Team RNIB for you, running to support people with sight loss. Sign up at rnib.org.uk/londonmarathon
Sign up for workout ideas, training advice, reviews of the latest gear and more.