Five Tips For Improving Your Rowing Technique
Master the rowing machine with this advice from Olympic gold medallist Andrew Triggs Hodge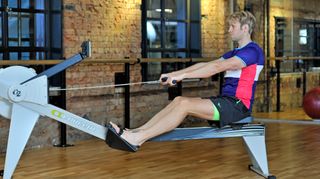 (Image credit: Unknown)
While treadmills are in constant use and people fall over themselves to sign up for spin classes, all too often the gym's rowing machine is left neglected.
This is a huge shame because, when done correctly, 25 minutes on an indoor rower provides a full-body workout unlike anything that can be achieved on the more popular gym machines.
The machine works muscles all over your body, and it also provides a strenuous cardio workout. It's vital to get your technique right, though, so here's some advice from four-time world champion and triple Olympic gold medal-winning rower Andrew Triggs Hodge, who is an ambassador for the Cancer Research UK Great Row.
RECOMMENDED: Rowing Machine Workouts
1. Use Your Legs For Power
Rowing might seem like an upper-body workout, but a good rowing stroke comes from the legs, and yanking the chain too early will only result in inefficiency and injury.
"Think legs, body, then arms," says Hodge. "Push through your thighs to power yourself back and your body will open naturally. You don't want the arms to work too early in the stroke otherwise your upper body will get fatigued very quickly and this could cause injury."
2. Stop Slouching
While this may sound obvious, you need to be sitting upright when rowing on the machine.
"Take a moment to check your positioning and make sure you're not leaning to one side," says Hodge. "Try to avoid slouching through the stroke and recovery. Ask your gym mates to let you know if you slip into this.
"One good tip is to feel yourself rock over your sitting bones – then you know you're staying upright."
3. Make Each Stroke Long
Short strokes will see you flame out after a few minutes on the rower, so don't pull too hard and ensure you're sliding as far back as possible.
"One of the most common mistakes is to pull far too hard and power straight back," says Hodge. "Opt for long strokes, pushing as far back as you can in as smooth a motion as possible."
4. Row Barefoot
Long, loose clothes are only going to get in the way when you're on the rower – and according to Hodge, you might even want to dispense with your shoes.
"Shorts and a slim-fitting T-shirt are ideal because they won't catch in the seat as you power back and move forward. I'd recommend rowing barefoot too if you can – you'll get your feet strapped in snugly and it saves space in the gym bag!"
5. Don't lose your breath
Rowing is tough, especially if you're new to the discipline, but the key to travelling long distances on the machine is staying slow and steady, and not losing your breath.
"If you're out of breath all the time while you're rowing, you're going too fast," says Hodge. "You should be able to hold a short conversation with the person next to you at the same time. It's a social sport too!"
RECOMMENDED: The Ultimate 2k Rowing Plan
Cancer Research UK Great Row
If you fancy a target for your training, the Great Row is just the thing. Participants aim to conquer a certain distance rowing solo or as part of a team during the challenge week, 25th March to 1st April.
You can opt to row 2,000m, the distance of the Boat Race (4.2 miles/6.75km), a half marathon (13 miles/21.1km) or a full marathon (26 miles/42.2km). It's free to enter, with a minimum fundraising target of £25 per person.
Head to cancerresearchuk.org/thegreatrow to sign up and for more information and training plans.
Sign up for workout ideas, training advice, reviews of the latest gear and more.