Rugby Sevens Star Dan Norton's Olympic Training Regime
The sport's all-time leading try scorer gives us the inside scoop on his preparation for the Olympics in Tokyo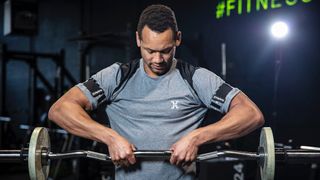 (Image credit: Unknown )
Dan Norton is the most prolific try scorer in World Series Sevens history and he is heading to his second Olympics in Tokyo, where Team GB is aiming to go one better than the silver medal they won in Rio in 2016. We spoke to Norton, who is an ambassador for blood flow restriction (BFR) sportswear brand Hytro, about his preparation for the Games.
The Great Britain Rugby 7s team is based over three countries. There are 20 guys from England, Scotland and Wales, and we travel to our base at Loughborough University on a Monday and we are there until Thursday.
We would normally have a light day on a Monday. We just do some low-level skills work and get the drive out of our body. Then Tuesday, Wednesday, and Thursday are our double days: rugby in the morning, then some kind of gym and/or skills work in the afternoon.
Within training sessions we will spend probably 70 to 80 minutes working as a team. Within that there's individual blocks and time at the end of the session where we can work on individual skills, which may be a weakness or a strength.
There's a lot of work to build team camaraderie and unity. Most teams have been together for years, because they are one nation, whereas we are three nations coming together to create a team in about four or five months.
Normally we have Friday off, then Saturday and Sunday would be focused on speed and weights. When we're in camp there's not a lot of time to do running, so the weekend is generally when we do our speed endurance or aerobic power work. Something like three-minute intervals, running as far as possible. Those are probably the hardest part of training for me personally. I hate having to run anything over 100 metres! I'm not made to do three to five minutes of sustained running at pace – I'm made for short, sharp sprints.
Our weight training changes throughout our preparation. We did high reps – six, eight, 10 reps – when trying to build strength and add muscle. Now we're looking to amp up our strength and increase our power outputs so we're doing heavy lifts, but only two, three or four reps, aiming to really exert force and power through the lifts.
We superset the lifts with a fast movement. This could be a bound, a jump, a throw, or a heavy push.
From watching the 2019 Rugby World Cup in Japan we know the humidity out there is pretty intense. You're looking at 70 to 80% humidity, so the ball can be really greasy, your hands are sweating and it's hard to grip the ball.
The heat itself is also a big factor. For these last two weeks, we've been simulating that within heat pods and heat chambers. Think of a Perspex greenhouse you'd find in a garden. We've been riding a Wattbike in those with a heater, doing 30- to 40-minute sessions to simulate the heat stress on the body and aiming for about 35°C and 78% humidity.
Normally you're playing two or three games a day at a tournament. You need to be able to hit a high, recover for two hours and then do it again. Within that time you're refuelling, trying to rehydrate, but it's a mental battle as well. You come off a caffeine-fuelled game high, having run yourself into the ground, and it's about finding a way to do that again. Those are the mental and physical tolls of the tournament.
See related
We would never normally have a five-month training block going into a major tournament. Normally we have a full season, which is a year, where you roll through all the different training methods, and have peaks and troughs throughout the season – whereas now we're looking to really peak for this one-off event.
Within camp our diet is quite standard. You're trying to eat a nice colourful plate, and get the protein and carbs in. For me it's probably just monitoring my portion size and understanding how I can refuel properly.
Dan Norton is an ambassador for Hytro. To find out more about blood flow restriction, visit hytro.com.
Sign up for workout ideas, training advice, reviews of the latest gear and more.