How Weight Stigma Contributes To Obesity Levels In England
There's no one-size-fits-all solution to obesity, and the stigma surrounding it is only making the problem worse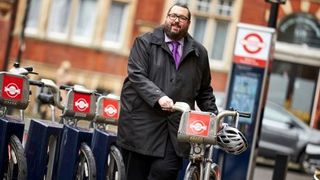 (Image credit: unknown)
Photograph: World Obesity Federation
England has an obesity problem. Almost two-thirds of adults are thought to be overweight or living with obesity, and one in three children leaving primary school overweight or obese. This is not a new problem, but the fact that obesity is linked to worse outcomes in those who contract COVID-19 has renewed focus on the problem. Public Health England has launched a new campaign to help people lose weight, with tools like a new free weight loss app being made available as well as impending government bans on certain adverts and BOGOF deals, along with clearer calorie labelling on foods and drinks.
One aspect of obesity none of the new initiatives addresses is weight stigma. However, the British Dietetic Association – which represents dietitians, nutritional professionals who work widely in the NHS – highlights this as one of the primary societal problems associated with obesity. We asked dietitian Lucy Perrow, speaking on the association's behalf, about the causes of obesity and the role weight stigma plays.
What are the causes of obesity?
There are so many it's difficult to say, but the main things are the environment, your biology, the policies that surround you within our society, other societal influences, individual psychology and activity. Even when you think about your environment, a lot of it is not built for us to be active. Parks might not be accessible at times when people can use them, or they might not be safe for children, especially in city centres.
The thing with obesity is that it's very individualised. There's no two people I've seen in nearly 20 years of doing this job that I would treat the same. Why different people have gained weight is very different – and takes into account their background, their likes and dislikes, their physical ability to get out and exercise, their budget.
How can weight stigma hinder people's attempts to lose weight?
Weight stigma remains a socially acceptable form of prejudice and is rarely challenged despite the increased awareness of discrimination in society as a whole.
Some argue that stigmatising people with obesity will incentivise them to lose weight. However, evidence shows that this has the opposite effect, and stigma contributes considerably towards the globally rising obesity levels.
Weight stigma can have psychological, social and physical health consequences on those affected by this disease. Psychological outcomes can include depression and anxiety, and the social effects can include social rejection by peers and poor quality of interpersonal relationships. Shaming is not only ineffective at getting individuals to lose weight, but research shows that it contributes to binge eating, emotional eating, restrictive eating, weight cycling and eating anxiety, all of which can increase weight.
Activities as basic as exercising, eating a meal and shopping may all evoke teasing and/or the feeling that one's body is not acceptable and thereby increasing feelings of shame and anxiety.
Taken together, the consequences of being denied jobs, rejected by peers and treated inappropriately by healthcare professionals because of one's weight can have a serious and negative impact on quality of life. Individuals affected by obesity suffer terribly from this, both from direct discrimination and from more subtle forms of bias that are frequently encountered.
See related
Where should people start if they're trying to lose weight?
The top tips are nothing new – it's what everyone has already heard. Eat more fruit and vegetables, decrease high fat, high salt and high sugar foods, try to get your 30 minutes of daily exercise, drink water, try to reduce consumption of food outside the house (so takeaways and eating out), and watch your portion sizes.
Those would be my top tips, but it's very difficult to say what's going to work for people. Support groups like WW or Slimming World certainly work for some, but what is really needed is long-term, consistent support.
Sign up for workout ideas, training advice, reviews of the latest gear and more.