The Best Boutique Gyms Offering Online Workout Classes
Get your studio fitness fix without leaving your front room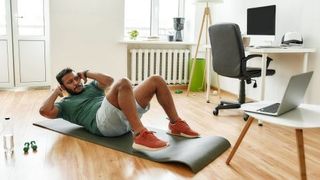 (Image credit: unknown)
It's been a tough year for boutique gyms, but they're not the kind of places to let events get on top of them – if you've ever set foot in one you'll know that positivity and motivation is practically oozing out of the walls. Many hosted workouts on Instagram during lockdown, and have now also transitioned to offering at-home fitness subscription services that bring their classes into your front room. Or back room. Wherever you exercise at home.
Most of these services have classes that require no equipment at all, and all those we've come across offer some kind of free trial so you can test the waters before making a bigger commitment. If you're starting to struggle with your motivation to exercise at home after several months, or don't live in a big city with a choice of boutique gyms and have always wanted to see what the fuss is about, these live and on-demand classes might be just the ticket to get you moving again.
Heartcore At Home
If you're in search of some top-notch home Pilates sessions, then London-based chain Heartcore has launched Heartcore At Home, which offers a library of on-demand videos plus a full schedule of 30 live classes a week. While there are no reformer Pilates workouts available – understandably, since it requires a huge bit of kit – the service has a decent variety of sessions, including dynamic mat Pilates, Heartcore's signature classes that work on your strength, and general stretching sessions to keep you loose. You can sign up now although the service goes live February 24th. Prenatal and postnatal classes are also coming to the platform soon, with an app scheduled to launch in spring 2021 to make it easier to follow the classes on different devices.
Sign up | £55 a month, £5 a class
Digme At Home
London studio Digme has launched a subscription service that gives you access to a full schedule of live classes, along with some on-demand sessions you can tackle at any time. Classes include HIIT, strength, yoga and spinning, with the difficulty and equipment you'll need listed for the on-demand ones. It costs £29.99 a month to sign up, or you can pay £6 a class, and there is a 14-day free trial offer.
Sign up | £29.99 a month, £10 a class
Barry's At-Home
The in-person Barry's class experience mixes periods of working with heavy weights and intervals on a treadmill, but the formula has been revised for the at-home service to take into account the type of equipment people generally have to hand. The schedule of classes is made up of sessions that use your bodyweight, resistance bands or free weights, so you can pick which ones you have the gear for. Don't expect an easy ride, though – the 50-minute HIIT sessions are every bit as tough as you'd expect from Barry's.
Sign up | £12 a class
See related
Core Collective CCTV
There's a strong range of on-demand classes to try here, split into six categories – sweat, strength, train, Pilates, yoga and bodyweight. The classes start from just 10 minutes long and go up to 40 minutes, and while many require no equipment at all Core Collective has put together two kit packs you can buy to support your home training. These are based around what you'll need for its classes, so the sweat/train/strength pack (£135.78 for members) contains weights and resistance bands, while the Pilates/yoga/bodyweight pack (£60.39 for members) has things like yoga blocks and a mat. You can get a five-day free trial of the service, after which it's £10 a month or £90 a year.
Sign up | £10 a month, £90 a year
Psycle At Home
Don't be fooled by the name – Psycle offers more than just spinning sessions. There are also strength, yoga and barre classes, ranging from 20 to 60 minutes in length. Of course, there are plenty of spin classes too if you have an exercise bike, and if you don't you can buy the model Psycle uses in its studio at a discount (£999-£1,275, plus £125 delivery). There is a 14-day free trial available, after which it costs £35 a month or you can buy individual classes for £12 apiece.
Sign up | £29 a month, £12 a class
Sign up for workout ideas, training advice, reviews of the latest gear and more.