Join This Beginners Yoga Challenge For Men
Yoga brand Warrior Addict is hosting free Zoom classes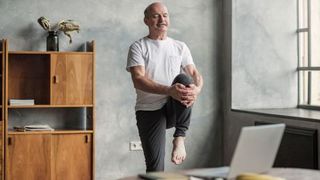 (Image credit: Unknown)
It takes only a couple of guided sessions to start to appreciate the benefits of yoga. You can easily find video sessions online or tackle on-demand classes through yoga apps, but if you are new to yoga there is something to be said for live instruction to make sure you understand the poses you're attempting.
In the first three months of 2021, you'll be able to get that without leaving your house or paying a penny, because men's yoga brand Warrior Addict is putting on a series of classes aimed at beginners.
Three of the sessions will take place on Zoom, so you can get feedback from a yogi, with a further six classes released on YouTube so you can hone your technique in your own time.
The programme has been put together by yogi Joa Gomez, who is keen to stress that anyone can take part.
"You don't need to have practised yoga before – we welcome everyone," says Gomez. "Expect the classes to be a little challenging, but they are accessible even if you are a complete beginner."
That said, if you have some experience there are still good reasons to join the series.
"It is also a brilliant refresher course even if you have been practising yoga for a while," says Gomez. "It's always good to revisit your foundations and you will be joining a new community of like-minded people."
See related
If you do complete the course, which starts on Monday 4th January and runs until Sunday 20th March, you can look forward to a host of benefits.
"You can expect to develop your strength, flexibility, mind/body balance and endurance," says Gomez. "Yoga teaches you how strong your mind can be in controlling what your body can do. This mind/body control is useful for everything that you do."
You can see the full schedule for the Zoom sessions and YouTube classes below. Every one takes place or is released at 7.30pm. Sign up on the Warrior Addict website to receive links to each session.
Monday 4th January – live Zoom intro class
Saturday 9th January – first class released on YouTube
Saturday 23rd January – second class released on YouTube
Monday 1st February – live Zoom class
Saturday 6th February – third class released on YouTube
Sunday 20th February – fourth class released on YouTube
Monday 1st March – live Zoom class
Saturday 6th March – fifth class released on YouTube
Sunday 20th March – sixth class released on YouTube
Sign up for workout ideas, training advice, reviews of the latest gear and more.