How To Do The Cable Rotation
Use this rotational exercise to challenge your core in a new way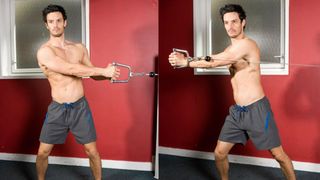 (Image credit: Unknown)
When most people think of abs exercises their mind naturally drifts to moves like crunches and leg raises. All of them can be great for your core, but they all only require you to move your body forwards and backwards. If you stick purely to this plane of movement (called the sagittal plane) then parts of your core will get an easy ride.
Add rotational exercise like the cable rotation to your abs training and you'll ensure your obliques in particular are challenged. It's a great exercise for anyone who wants a strong, functional core, but if you happen to be a golfer then it's a must-do, since all that rotation strength translates directly to the swinging of a club. It will also help to carve out a six-pack, if that's on your to-do list.
See related
How To Do The Cable Rotation
Attach a handle to the cable machine at chest height. Hold the handle in both hands and stand side-on to the machine, with your legs wider than shoulder-width apart, but with your torso rotated and arms extended towards the machine.
Your weight will be on the leg closest to the machine. Rotate your upper body away from the machine to take the handle past your body and to the other side, shifting your weight to your other leg as you twist. Keep your arms straight as you rotate and focus on using your abs, rather than your arms, to power the movement. Slowly reverse the movement to return to the starting position.
If you don't have access to a cable machine and want to give the movement a try, you can also do the exercise using a resistance band attached to a fixed point.
Sign up for workout ideas, training advice, reviews of the latest gear and more.