How To Train For A 100-Mile Sportive
With the right training behind you and fuel in you, a 100-mile ride will fly by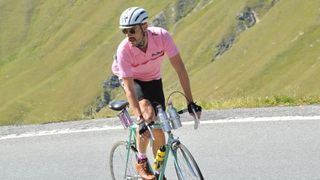 (Image credit: Unknown)
As more and more people take to two wheels for their daily commute, it's only natural that some consider tackling something a little tougher in their spare time.
Clearly, tackling a sportive is very different to riding 10K to the the office and back, but if you're a regular rider it should only take a couple of months' training to get up to speed for a 100-mile (161km) event. For advice on how to train for your first sportive, we spoke to Mike Gluckman from Haute Route (opens in new tab), which runs multi-day cycling events for amateurs all over the world. And then, for what to eat to support all that effort we turned to Alan Murchison, Michelin-starred chef and world duathlon champion.
How To Train For A 100-Mile Sportive
How many weeks of training do you need for a 100-mile sportive?
It naturally follows that the less fit you are when starting, the more time it will take you to build up to 100 miles, but for someone whose cycling entails a short commute to and from work I'd recommend at least six to eight weeks of preparation.
How long should your longest training rides be?
There should be a gradual build-up throughout your training programme to take you closer to the full length of the event. There's no point in going out in week one and trying to do 90 miles if your previous longest ever ride was ten.
A good idea is to add five to eight miles to your long ride each week until you reach about 85-90% of the length of your event. Just like when you're training for a marathon, you don't necessarily need to go out and do the full distance in training. By riding close to the full distance you also won't compromise your future training by completely tiring yourself out.
How many sessions a week should you do?
The amount of rides you can squeeze into your week will depend on your lifestyle but if you have enough free time, I'd recommend three sessions a week with at least one being a longer ride.
It's crucial to ensure your training matches the requirements of the event and includes steady progression. Also, as we tell riders taking part in our Haute Route events, remember to leave time to recover and taper [decrease your training volume before the event to avoid fatigue] before the event itself.
What kind of sessions should you do?
There are broadly three types of sessions which are useful to most riders:
Long rides – 2½-3hr or more at a fairly low intensity.
Interval sessions – 1-2hr with several 8- to 15-minute intervals at a high intensity.
Hilly rides which provide a natural interval session. If there aren't any hills close to home, you can always use your gear selection to simulate the inclines.
Should you try to do a shorter event first?
It is a good idea because it allows you to practise your race-day strategy and get used to the atmosphere of an event – riding in a group, using the feed stations and managing your effort in race conditions.
Don't stress if you can't do an event beforehand though – you can always simulate it on a weekend ride instead.
See related
How To Fuel For A 100-Mile Sportive
No matter how fit you are, you're not going to perform well in training or at your event if you don't fuel correctly. For all the info you need on what to eat here's Alan Murchison, Michelin-starred chef, world duathlon champion and author of The Cycling Chef: Recipes for Getting Lean and Fuelling the Machine (opens in new tab).
How should you approach your diet when training for a long sportive?
Make sure your training load and your food are aligned. If you're going to ride five or six times a week, do two easy rides, two rides at the pace you're going to do in your key event, and then one or two intervals where you ride above your predicted event pace for periods.
On an easier day eat more protein and more fat, and get your fruit and veg in. On harder days just eat a little more carbohydrate. Try to get a balance of quick-release and slow-release carbs. Generally slow-release is oats, rice, potatoes, that kind of thing, quick-release is sugary stuff like honey or maple syrup.
How long does a ride have to be to require you to eat during it?
It depends on the intensity. Look at an effort scale of one to seven, with one being very easy and seven being maximum effort. If you're riding at anything above a level three, the benchmark is a gram of carbohydrate per kilo of bodyweight per hour.
I would say if you're riding for 90 minutes and above at a normal, medium pace, you would need to fuel mid-ride. Otherwise you're going to run out of energy and you're going to be destroyed for a couple of days afterwards.
What's the best way to fuel on a ride?
It doesn't need to be overcomplicated, but try to plan it – hour one, this is what I'm going to have, hour two, it's this. So for a 75kg cyclist, an oat ball is about 20g of carbohydrate, a gel is 22g, a standard drinks mix in 500ml would be 36g – that's one hour.
It's also about figuring out what works for you. I'm an advocate of real food and if you're doing medium-intensity rides it's probably the easiest thing to digest, but also if you've never done it before and you went out to ride for five hours and took 400g of carbohydrates, the likelihood is you're going to shit yourself. Your body will not have a clue what to do with it.
Try to eat or drink every 20 minutes. If you have a bike computer or smartwatch, set an alarm to go off every 20 minutes. I start doing that about half an hour into a long event.
What kind of meal would you have after a ride? Are supplements useful?
One of my favourites is a sweet potato tortilla – there's a good amount of carbs in that. A perfect simple recovery meal might be a bag of precooked rice, a can of tuna and some avocado – you've got carbs, protein, good fats. But the main thing is to eat real food as soon as possible. If you have a training plan, try and plan your food shopping alongside it. Make sure you always have eggs and potatoes in the house.
It's better to have real food than a synthetic protein shake made of ingredients you don't know. That said, don't die in a ditch over it. If you're really short of time after a ride, that's when to have a protein recovery shake. Better to have that than nothing – but real food if possible.
Do you need to carb-load before a long ride or event?
I would say no. Your body can only absorb so much at a time. What I would recommend before a long ride is reducing the fibre content of your meals. You could have a significant amount of undigested fibre in your gut. Have something simple like grilled chicken and pasta with a light tomato sauce.
And find out what works for you with practice. I see people turn up for a race with their bike all set up and knowing what clothes they're going to wear, but they will eat in a hotel. Where did the meat come from? What was the acidity level of the sauce? What fats did they use? Whatever you're doing, practise it and make a note of how you feel about certain foods.
Do you have any tips for eating on the bike without falling off?
Practise putting your hand in your back pocket on a turbo trainer if you can – but there is nothing wrong with pulling over, eating something, then moving on. The impact on performance of not eating will negate any time lost from stopping for 90 seconds for a quick snack.
Do you recommend caffeine products?
Caffeine is a well-known performance aid and it has a place, but not too much. If you're not used to caffeine and you start popping gels with 100-120mg of caffeine, you're going to have an elevated heart rate. And if using it in training, don't use it on evening rides or late in the day, or you'll end up staring at the ceiling at two in the morning.
I'm almost immune to it because I drink so much of it, but if I was having a caffeine gel I'd save it for the latter part of the ride when you need a pick-me-up.
Any advice on what cake to have if out on a long ride?
If you're on the sort of ride where you're stopping at a coffee shop, get over yourself. Whatever you're having isn't going to impact your key event so if you fancy scones, or a millionaire shortbread, just have it. The best-looking cake is the cake I would have. At no point would I look at the macronutrients involved.
Can the right nutrition stop you from hitting the wall during your event?
Absolutely. If you look at the Ironman world champs, where even the quickest take over eight hours, if you watch the last hour you will see these amazing physical specimens walking. It's not the lack of aerobic capacity or that they haven't done enough training, it's that they haven't eaten enough.
Basically, after an hour, eat or drink every 20 minutes .If you do that, and follow the gram of carbs per kilo of bodyweight per hour, you will not go far wrong.
Alan Murchison's book The Cycling Chef: Recipes for Getting Lean and Fuelling the Machine is available to order now (Bloomsbury, £22)
Sign up for workout ideas, training advice, reviews of the latest gear and more.