Should You Take Painkillers During A Marathon?
Prepping for a big race? Find out why taking painkillers during a marathon isn't a good idea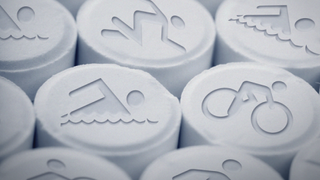 (Image credit: Unknown)
Running a marathon hurts. Even if you sailed through your marathon training plan and are flying through your race towards a PB, you'll still experience muscle fatigue and pain in the final few kilometres. And if you're carrying a running injury or worried that one might arise during the race, then you might have more than standard muscle pain to consider.
However, the answer does not lie in painkillers. For one, masking the pain of undertaking such a tough physical challenge is not smart – your body is under stress and you should keep an eye on any pain that develops in case you have to stop. Furthermore, several studies have found that dosing yourself with painkillers to try to improve your performance can actually have the opposite effect, as well as risking your health.
For example, participants in the 2010 Bonn Marathon were asked if they used any non-prescription pain medication. The number of people who failed to finish because of pain and other health symptoms differed little between those who used painkillers and those who didn't.
However, far more of the people who took painkillers had to drop out due to stomach problems than those who didn't. Runners who necked painkillers were also five times more likely to experience symptoms including stomach cramps, cardiovascular problems, gastrointestinal bleeding, blood in the urine, and joint and muscle pain than those who took nothing.
Overall, nine runners who took painkillers ended up in hospital: three for temporary kidney failure after taking ibuprofen, four for bleeding ulcers after taking aspirin, and two after heart attacks (also aspirin). Not a single person who competed in the race without painkillers was admitted to hospital.
It gets worse. In 2006 physiologist David Nieman, director of the Human Performance Laboratory at the North Carolina Research Campus, did blood tests on competitors at the 100-mile (161km) Western States Endurance Run. He found that people who took painkillers (including anti-inflammatory drugs such as ibuprofen) before and during the race actually had more inflammation than those who didn't. The pill-popping athletes also suffered kidney damage and even a particularly nasty condition in which colonic bacteria leaked into their blood.
Putting grim thoughts of poo-contaminated blood aside, it would seem logical to assume that painkillers must at least increase pain tolerance, but it appears that's not the case. Among Western States Endurance Run competitors, researchers found no reduction in pain and muscle soreness between those who had and hadn't taken painkillers. In fact, the pill-poppers actually reported more inflammation and pain.
In an endurance event everyone will suffer some degree of discomfort – that's natural and it will be something you've already encountered during your training for a marathon. This will give you some idea of what is normal pain for you during long runs, which is vital, because it then allows you to ascertain whether something that crops up in a race is abnormal. While everyone wants to complete their marathon, if you start experiencing serious pain you have to consider the potential cost of carrying on. You could end up sidelined for months or more if you push it too hard on race day and turn a niggle into a serious injury.
Sign up for workout ideas, training advice, reviews of the latest gear and more.