The One App Runners With An Apple Watch Should Download
If you want a proper running watch experience, get iSmoothRun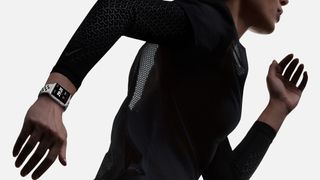 (Image credit: Unknown)
While the Apple Watch works as a great everyday fitness tracker that's improved its fitness features with each generation, it's still somewhat lacking when it comes to pure run tracking, especially when compared with a dedicated running watch. The GPS tracking is iffy, the native workout app doesn't link to third-party apps like Strava, and you can't create and follow customised workouts.
But, off course, the great strength of the Apple Watch is a huge app market, and you can solve most issues by downloading your favourite running app directly to the watch. Strava, Nike+ Run Club, Runkeeper and many others all have Apple Watch apps to use, although even they won't match the full experience of a running watch. The only app I've found that comes close is iSmoothRun.
It's not the most impressive-looking app, and it does cost £4.99, but if running is your main sport then iSmoothRun is a crucial addition to the Apple Watch.
One of iSmoothRun's best features is its ability to counter the sometimes questionable GPS tracking on the Apple Watch by tracking it via both the watch and your phone, rather than the watch alone, when you start a run. When accuracy is key – during interval workouts or race pace runs, say – it's great to have this option, while you can still just use the watch's GPS and leave the phone behind for easy runs where accuracy is less important.
You can customise the two in-run display screens on iSmoothRun with six different running metrics, including advanced options like how far behind a preset ghost racer you are, your cadence, and a metronome to follow if you're working on your stride rate. The app also displays which heart rate zone you are in via a series of lights on the bottom of the screen.
For those who like to create their own workouts, you can easily set up multi-step sessions in the phone app and follow them on the watch. During a run, you can also access Apple Maps directly at the click of a button, although in my experience the map rarely loaded quickly enough to be of use.
When not running, the watch app shows your overall weekly mileage and the distance you've covered in each of the past four weeks. Beaming your data over to other apps takes seconds, and you can also set it to upload automatically.
It's still not as complete an experience as you'll get with a dedicated running watch, but iSmoothRun is as close as you'll get while also having all the smartwatch features offered by the Apple Watch.
£4.99, App Store, ismoothrun.com
Sign up for workout ideas, training advice, reviews of the latest gear and more.