Olympic Legend Jessica Ennis-Hill On Her New Fitness App Jennis
New and expectant mothers in particular should check out the Jennis app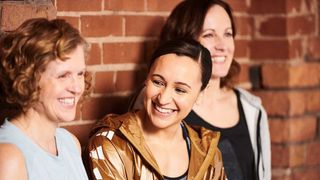 (Image credit: unknown)
There are lots of reasons you might not want to exercise in the weeks and months after you give birth. You're tired most if not all of the time for one, and taking time out of looking after your child to exercise can inspire (unwarranted) feelings of guilt in many new mums.
It can also be tougher to exercise during pregnancy, for mostly obvious reasons. Any exercise you were doing before you became pregnant becomes quite a bit tougher once a human starts growing inside you.
As someone who returned to compete at the Olympics after giving birth to her first child, Jessica Ennis-Hill knows about the challenges involved. Her new app Jennis aims to make exercise easier for pregnant women and new mothers, with carefully designed workouts to suit what you're able to do in those periods. And the app also contains a whole load of 20- to 30-minute HIIT workouts that will benefit everyone. We spoke to Ennis-Hill about the app and what people can expect from it.
What made you want to make an app?
With Reggie, I wanted to go back to being an elite athlete again, to go to the Olympics. And then with Liv, I was retired and didn't have anyone guiding me in what to do. I wanted to create a space where all these workouts and exercises that I had were in one place for women to know what to do. When you're a mum everything has to be so easy and quick, because you've just got no time, so I thought an app would be perfect.
How does the app work? Do you follow a training plan or pick one-off workouts?
The pregnancy section is broken down to three trimesters, and within each trimester, there are workouts specific to that trimester. There are cardio and core stability workouts, yoga and meditation. You take the pregnancy section at your own pace, because everyone's pregnancy is completely different.
Then the postnatal section is broken down into three sections and again it's about starting when you're 100% ready – when you feel that you've recovered from labour, and you're physically and mentally ready to start doing something. And then you go to zero weeks – always start at the very beginning. It's about building your core muscles back up and activating them in the right way.
The fitness section is workouts that change every month – three workouts are added every month. They're high-intensity workouts that anyone can do.
See related
What are the benefits of being active in the postnatal period?
It's one of the most important periods in your life exercise-wise, because your body has obviously gone through a huge change over nine months, and then you've gone through labour. A lot of your muscles have all switched off, and everything's been stretched. It's about doing the right exercises and making sure that you switch on the muscles in the right way again, in the right order, so that you can get your strength back.
It's not necessarily about being super-strong and super-fit. It's kind of like proofing your body so that you don't have back problems a year or two years down the line, because you've got young kids and you're literally nonstop. But making sure your body's in a great place after birth allows you to then build up to a good level of exercise if you want to.
What would you say to new mums who might feel guilty about exercising?
You do feel guilty because you think "I have to give all my time to my baby". And any time away from them, you just feel "ah, I'm a bad mum!" But actually, you need that time, and with the postnatal stuff, it's ten minutes here and there that you could do while they're having a nap. It's really important to do it and make sure that you're doing it at the right stage.
Do you have any tips on how to stay active during pregnancy?
It's hard because it's determined by what kind of pregnancy you're having and how you're experiencing it. But within the app each trimester has a number of different workouts. So there's yoga stretches and poses that you can do, which is not going to get you out of breath – it's just helping to stretch and release that tightness that you often feel in pregnancy. And then if you are someone that has exercised more, some of the cardio sessions are circuit workouts, so there are things like squats and dumbbell exercises. You can get your heart rate up a bit, and you've done something but not pushed yourself in an uncomfortable way. It's all about remaining in that comfort zone.
The Jennis app is now available on the App Store and Google Play and costs £9.99 a month.
Sign up for workout ideas, training advice, reviews of the latest gear and more.