Freshen Up Your Gym Playlist With The Most Popular Tunes Fitbit Wearers Work Out To
Plus expert advice on how to pick the right tempo for your workout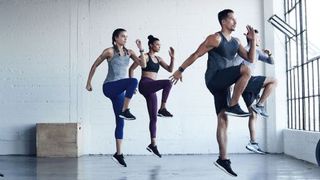 (Image credit: unknown)
Unless you listen to the Black Eyed Peas*, you should never face any kind of judgement for your music choices when working out. If you're going to move your body to get fitter and healthier, do it to whatever you damn well like (with the one exception of the Black Eyed Peas).
However, if you do want some ideas for what to listen to during your next workout, music-streaming service Deezer can help. A Deezer app has been available on the Fitbit Ionic and Versa smartwatches since the launch of the latter in April, and Deezer has counted up the most popular tracks among Fitbitters (as no-one calls them) in the UK, the US, France and Germany.
Dua Lipa and Calvin Harris – "One Kiss"
Ofenbach – "Be Mine"
Camila Cabello – "Havana"
Drake – "God's Plan"
Rudimental – "These Days"
Petit Biscuit – "Waterfall"
Sigala – "Lullaby"
Bruno Mars feat. Cardi B – "Finesse (Remix)"
Ed Sheeran – "Shape of You"
Marshmello & Anne-Marie – "Friends"
A fine list to grace your lugs during your next sweat session, but if none of the above floats your boat, then consider the following advice on choosing a workout track from Deezer Moods editor Robin Vincent, who oversees the creation of all playlists for Fitbit users.
The key is to match up the tempo of the track with your activity, says Vincent.
"For jogging, aim for a song with a tempo of around 140bpm, such as Muse's 'Knights of Cydonia', but when sprinting, the best tempo is around 170bpm. 'Gold Dust' by DJ Fresh is the perfect song if you're looking to pound the treadmill."
See related
Here's Vincent's list of suggested tempos for different workout activities, along with an example track.
Jogging: 140bpm. Try Michael Jackson – "Beat It"
Brisk run: 145 bpm. Try LCD Soundsystem – "Drunk Girls"
Sprinting: 170-180 bpm. Try DJ Fresh – "Gold Dust"
HIIT training: 125 bpm. Try Nicki Minaj – "Pound the Alarm"
Yoga / pilates: 103 bpm. Try IDER – "King Ruby"
Weight training: 170 bpm. Try Eminem – "Till I Collapse"
Wondering if your favourite music has a suitable tempo for your planned workout? You can count it manually using a clock and your ears, or search for it at songbpm.com (opens in new tab). And remember, all of the above is just advice. If you want to listen to a nice podcast or The Jesus and Mary Chain while you put yourself through HIIT workout, then you go right ahead. Not the Black Eyed Peas, though.
*With apologies to people who like the Black Eyed Peas, but not the Black Eyed Peas
Sign up for workout ideas, training advice, reviews of the latest gear and more.