Get Set To Trek With The Best Hiking Socks
If you're gearing up for a long walk, your feet deserve the best socks available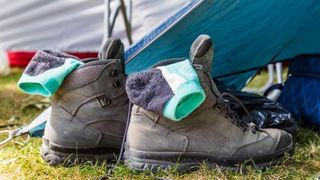 (Image credit: Unknown)
Take a look at your hiking boots. How much time did you put into picking them? Did you carefully check that they had every feature you needed to protect your feet from the elements and ensure even mammoth treks could be undertaken in perfect comfort? We bet you did.
Now look at your hiking socks. Did you put similar levels of effort into ensuring those are up to snuff as well? There's little point in splashing out over £100 on the best boots if you're pairing them with cheap socks that will get sweaty and scratchy in no time, potentially leading to blisters no matter how good your boots are.
To avoid that unpleasant fate, pick out a couple of top-quality pairs from the list below. Trust us when we say you'll enjoy the difference between good and bad hiking socks with every mile you walk in them.
---
Stance marries great design with technical excellence in all its socks, and its running range has long been our go-to pick for the sport. It also has an adventure range that includes several great options for long walks – look out for the socks marked Hike or Trek in particular. The Ulvetanna sock's design is inspired by the 2,930m-high Ulvetanna Peak in Antarctica, which is probably not where you'll go wearing them, but the quick-drying material with targeted cushioning will serve you just as well in the UK's National Parks as it does climbing mountains near the South Pole.
Buy men's from Stance (opens in new tab) | Browse women's designs (opens in new tab) | £21.99
---
We love a lifetime guarantee, especially when it's as clearly stated as Darn Tough's: "If our socks are not the most comfortable, durable and best fitting socks you have ever owned, return them for another pair, or your money back. No strings. No conditions. For life."
That kind of confidence suggests terrific socks, and they really are. The material used in this boot sock is 67% Merino wool, which wicks sweat away from the foot and also naturally prevents odours developing.
Buy men's from Trekitt (opens in new tab) | Buy women's from Trekitt (opens in new tab) | £24
---
See related
Bridgedale Hike Midweight Boot Merino Performance
These midweight socks are perfect for conditions in the UK, which are rarely extreme but often on the chilly side, with the Merino wool used in the material helping to keep your feet dry and at a comfortable temperature.
Buy men's from Blacks (opens in new tab) | Buy women's Blacks (opens in new tab) | £18
---
Smartwool Phd Outdoor Medium Crew
There are two things we really like about Smartwool. One is that it has an excellent sock finder (opens in new tab) on its website that helps you determine what the features of your perfect pair are. The other is that it has named its fabric tech Indestructawool, which is a little on-the-nose but sums up the durability of its socks nicely. Smartwool has socks of all heights and weights to suit any hiking preferences, with this medium crew pair offering the right balance of warmth and breathability for UK climes.
Buy men's on Amazon (opens in new tab) | Buy women's on Amazon (opens in new tab) | £19.79
---
Peter Storm Heavyweight Outdoors
When the weather is frosty enough that you're piling on four or five layers up top, remember that your feet get cold too and pull on these heavyweight socks designed for winter weather. They're amply cushioned and made with a thick but breathable fabric that will keep you warm without making your feet sweaty.
Buy men's from Peter Storm (opens in new tab) | Buy women's from Peter Storm (opens in new tab) | £16.80 (twin pack)
Sign up for workout ideas, training advice, reviews of the latest gear and more.