The Best Bathroom Scales
Upgrade your weekly weigh-in with a scale that works for you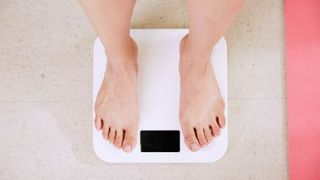 (Image credit: PR)
There's no need to agonise over the purchase of a simple mechanical bathroom scale. Find one that you like the design of and suits your budget, put it on a flat, hard floor, make sure it's correctly zero-ed before you step on, and you're good to go.
Things start to get more complicated with digital scales, where you may wish to consider battery life, and whether the fancier features will be worth the extra expense. Those include the ability to set up profiles so each member of the family can track their weight over time.
Digital scales are still a fairly simple affair, however, when compared to smart scales. These measure more things like your body fat percentage and muscle mass alongside your weight, and can link up to apps.
Smart scales can be a useful tool for keeping tabs on your weight and ensuring your exercise and dietary regime is yielding the result you want in terms of losing fat and building muscle, but they can be much pricier than simple scales.
Whether you're looking for a mechanical, digital or smart scale, we have the one for you.
---
The Best Bathroom Scales
Salter Doctor Style Mechanical Bathroom Scale
This is a little expensive for a mechanical scale, but we like the retro look and it has a high maximum weight of 150kg (23st). The circular dial is easy to read and shows your weight in both metric and imperial units.
---
See related
---
Beurer MS 01 Mechanical Bathroom Scale
A cheap and cheerful mechanical scale for those who want to plonk it down in the bathroom and use it forever without having to worry about batteries.
---
AmazonBasics Body Weight Scale
If you're ready to move on from mechanical scales, Amazon's own-brand digital scale comes in a variety of styles and you can set up a user profile with your BMI calculated as well. The scale requires three AA batteries and automatically shuts down after a period of inactivity to save battery life. The large LCD version has the highest max user weight at 181kg.
---
Salter Digital Body Weight Bathroom Scale
A simple, reliable digital scale backed up with a 15-year guarantee. The way things are going there's no guarantee the world itself will be around in 15 years, so you might not be able to cash in on that promise. But still, it shows confidence.
---
A great option for your first smart scale. The Tanita BC-731 is considerably cheaper than most smart options, offers standard measures like weight, body fat percentage and muscle mass, and even tracks your visceral fat – the really dangerous stuff that builds up around your organs.
Buy from John Lewis | £55
Sign up for workout ideas, training advice, reviews of the latest gear and more.