The Best Gym Water Bottles
Stay hydrated during your workouts with these functional and stylish water bottles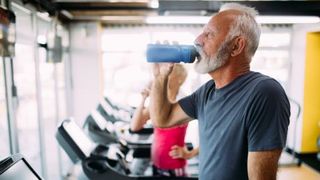 (Image credit: Unknown)
We all know the importance of staying hydrated while working out, so having a water bottle handy at the gym is a no-brainer. And there are plenty to choose from, ranging from the functional to the aspirational.
If you're purely focused on a convenient and cheap way to carry a drink into the gym with you, there are great options available for well under a tenner. If you're looking for something a little more impressive – a bottle that can keep cold drinks cool and look sleek and stylish too, perhaps – then be prepared to spend a little more.
That said, even the best gym water bottles are hardly going to break the bank, so you can splash out on one you really like. If you're going to use it frequently, then think of the cost per sip and you'll soon realise it will be worth the investment.
---
The Best Gym Water Bottles
A wide mouth makes this 500ml bottle easy to fill, and a large valve makes it equally easy to empty again by taking big gulps of much-needed water during your workouts.
Buy from Reebok | £6
---
There are absolutely no frills here, but how many frills are really required with a water bottle? The sports cap can be a little hard to pull out, but not that hard, and the lid screws tightly shut to avoid leaks. If you've ever got a free bottle at an event or with a purchase, it's more or less that standard, so if you were happy with that free bottle and lost it (or want a back-up) this is a cheap way to replace it.
Buy from Decathlon | £2.49
---
The slider design on the top of this 710ml bottle means you can open and drink from it using only one hand, which will be a boon for anyone who likes to hydrate during a set of biceps curls rather than waiting for their rest. The detachable straw is easy to clean, and the bottle itself can be chucked in the dishwasher.
Buy from Nike | £35.95
---
See related
If you're looking to invest in an insulated bottle to use for life outside the gym as well as in it, you're sure to find a design you like in the extensive Chilly's range. The bottles come in 260ml, 500ml, 750ml and 1,600ml sizes and more colours and patterns than you could ever hope to shake a stick at. The bottles keep liquids cold for 24 hours – more than enough to ensure a refreshing drink awaits you during or after a sweaty gym session – and they also keep hot drinks hot for 12 hours, if you're the kind of gym-goer who likes a sip of tea between sets.
---
The main advantage of a soft flask is that the bottle gets smaller the more you drink, and once empty it's easy to stuff into a pocket or a corner of your gym bag – that's a valuable trait if your gym bag doubles as your work bag and you have to cram a lot of stuff into it each day. Smaller soft flasks can also fit into a sports belt or pocket on your shorts during a workout, and when parched you can squeeze them hard to get a lot of liquid out very quickly. This Higher State flask holds 500ml of liquid and has a reliably leak-proof cap.
Buy from Sports Shoes | £5.99
Sign up for workout ideas, training advice, reviews of the latest gear and more.