The Best Baby Carriers For Hiking
Bring your baby along for the ride with one of these backpack carriers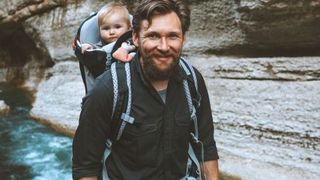 (Image credit: Unknown)
Unless you have birthed the next David Livingstone it's highly unlikely that your child can walk as far and as fast as you can. If you're someone who loves long hikes, the need to transport your child can throw a spanner in the works.
But if you are a hiker, you're probably also used to carrying heavy backpacks on those long hikes – so picking up a hiking baby carrier could be the perfect solution to your problem.
These rucksacks designed to carry a child make longer trips into the great outdoors a realistic option for parents who are prepared to carry their kids all, or at least some of, the way.
What To Consider When Shopping For A Hiking Baby Carrier
Comfort for the wearer is obviously a key factor with these baby carriers, especially since children won't sit still like a normal load and will test the straps (and sometimes your patience) to the limits, so consider the adjustable straps and air flow system on the back of the rucksack.
The comfort of your child is also important, of course, so check the seat of the backpack and how it can be adjusted to fit them as they grow.
It's also worth noting that while the carriers do have some general storage, they are mostly filled by the child they carry. Any other pockets will probably only handle the snacks and other accessories that a child needs on a hike.
Other important features are a sunshade and rain cover that can be pulled over your child when required. A kickstand is useful so you can rest the carrier safely on the ground with the child inside. And ideally you want the rucksack to be as light as possible.
See related
---
The Best Baby Carriers For Hiking
We've tested the Poco on steep scrambles up fells, long hikes in forests and what felt like an eternity walking around a zoo, and it's always impressed us with its ability to make carrying a wriggling toddler comfortable. The adjustable straps and ventilation system mean you can get your child rigged up in a way that doesn't pull you around as they squirm, and it's clearly a comfortable ride for the kid as well given how often ours fell asleep in it. The 3.5kg backpack has an integrated sunshade and a rain cover.
You don't get a huge amount of storage with the standard Poco, but there is the Poco Plus (3.6kg, £340) for those who want extra room for carrying things alongside their child.
Buy from Osprey | £300
---
Deuter Kid Comfort Active
The Kid Comfort is the chief rival to the Osprey Poco at the top end of the baby carrier market, and it wins out in a couple of important areas. At 2.68kg it is significantly lighter than the Poco and it's also slightly less sweaty for the passenger thanks to the extra ventilation it offers through mesh sections. The Kid Comfort doesn't come with a built-in sunshade, though, and it has less storage than the Osprey – an expandable mesh compartment under the seat is all you really get.
Buy from Deuter | £220
---
The LittleLife series of hiking baby carriers includes cheaper options than the S5, so if you need less storage you could save a little money. However, the S5 is our pick since it offers good value and has a detachable backpack that's useful for longer hikes when you don't want to have to carry another bag. Weighing in at 3.38kg, the Voyager S5 comes with a sunshade, but you'll need to pick up a rain cover separately. Or let the little 'un get wet, of course.
Buy from Little Life | £239.99 (currently reduced to £199.99)
---
One of the stand-out features of this carrier is that you can unbuckle it at the side, which makes getting a child out of it a lot easier. It doesn't match the comfort of the high-end carriers from Osprey and Deuter, but at 2.98kg it's still a great option for long hikes, and it comes with a variety of handy accessories. Along with a sunshade and rain cover, you get a mirror so you can check on your child when they go suspiciously quiet, plus a changing mat and a pillow for them to rest on when napping.
Sign up for workout ideas, training advice, reviews of the latest gear and more.