Apple Fitness+ Yoga For Every Runner, Reviewed By A Marathon Runner
This introductory yoga course is worth trying if you're a runner deep into marathon training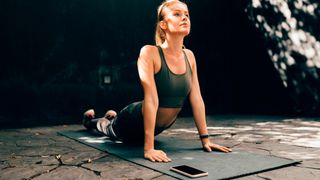 (Image credit: FreshSplash / Getty Images)
I run almost every day and practice yoga two or three times a week. I'm also a fan of Jessica Skye, who leads yoga sessions on Apple Fitness+, and I've done many of her classes in the app—both while writing an Apple Fitness+ review and afterwards.
All of the above considered, the Yoga For Every Runner series of classes that launched on Fitness+ late in 2022 should be right up my alley. As it turns out, it isn't, but I do think it's a great place for any runner to start with yoga, especially if you're currently deep into a marathon training program ahead of a spring event like the Boston Marathon or London Marathon.
The Yoga For Every Runner collection contains six 10-minute classes led by Skye and ultrarunning legend Scott Jurek, and it's found in the Workout Programs section of the Apple Fitness+ app.
Each class has a different focus, like your glutes or hips, and they are all designed to be accessible to runners, who often have tight muscles because of the demands of the sport—and runners are also notoriously bad at stretching.
The classes are engaging, with Skye providing handy bits of advice while Jurek chips in with largely unnecessary but often humorous comments, most of which are about how bad runners are at stretching.
Although I've done yoga regularly for several years I am indeed still bad at it and have extremely tight hips, but the instructions are easy to follow with a focus on where you should feel a stretch rather than having to get deep into every position.
My main problem is that the classes are so short. Doing 10 minutes of yoga is great, but you lose a couple of those minutes to the intro and outro to each class, and end up with just a handful of effective stretches. Stacking the classes to do back to back seems like the answer, but it's difficult because you then have to go through the intro each time rather than flowing through.
I understand that labeling the classes as for runners and involving Jurek might well bring more people new to yoga into the fold, but actually Skye's regular yoga classes on Apple Fitness+ are a better option for anyone, including runners. All the poses are explained well there too, and pretty much any yoga session focused on the legs, hips and glutes is great for runners. Having done both Skye's regular sessions and the dedicated series for runners, I'd go back to the regular ones.
However, if you are completely new to yoga and how it can help support the body during intense training periods, then the new series is a great place to start. You don't need an Apple Watch to use the Fitness+ app these days either; as long as you have an iPhone or iPad you can download and use the app. If you're new to Fitness+ you also get a month free (or three months if you just bought an Apple device), so during marathon training is the perfect time to try it in an attempt to ease your aching muscles. After the trial, Apple Fitness+ costs $9.99/£9.99 a month or $79.99/£79.99 annually.
Of course, Apple Fitness+ is not the only option for runners looking to add yoga or other flexibility work to their training. Fitness app Fiit also has some great (and longer) yoga for runners classes, as well as Pilates for runners which I have found works wonders for your core strength. Fiit also broadcasts a series of free workout classes every day, including mobility sessions. For a completely free on-demand option, I highly recommend this Ekhart Yoga yoga for runners video on YouTube, which I estimate I have done at least 300 times by this point. I'm not saying it's the key reason behind my 2hr 28min marathon PR, but it certainly didn't hurt.
Coach, of course, can provide options, too: this yoga for runners article contains five moves to help you recover after long runs, while this post-run yoga routine will stretch your aching muscles, and if you prefer follow-along videos we've curated the best YouTube videos for post-run stretches and yoga routines.
Sign up for workout ideas, training advice, reviews of the latest gear and more.