I Tried Davina McCall's Summer Sculpt Challenge On Fitbit's Workout App—Here Are Three Things I Liked And Two Things I Didn't
Fitbit Premium is hosting a six-week workout plan from Davina McCall. I gave it a try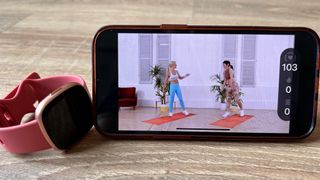 (Image credit: Lois Mackenzie / Future)
Who you choose to work out with can make a world of difference to your experience and your motivation to exercise. And who better to work out with than Davina McCall, one of the UK's most popular TV presenters with a growing sideline in health and fitness?
Fitbit Premium is offering anyone with a subscription (or anyone who wants to take advantage of a 90-day trial) the chance to work out with McCall as part of her six-week Summer Sculpt Challenge, which aims to help you feel fit and healthy for summer.
The new videos began being released in mid-April and I tried them to help you decide if it's worth your time.
What Is Davina McCall's Fitbit Workout Program?
The new program comes from Own Your Own Goals, McCall's workout app. The plan asks you to perform three workouts a week, varying the type each time. In week one, the first class is lower and upper-body, class two is cardio and core, and class three is a full-body and flexibility session.
Most of the classes require some equipment such as an exercise mat or dumbbells. McCall uses both light and medium weight dumbbells, so an adjustable pair is best (and we have plenty of options in our round-up of the best dumbbells) if you're working out at home.
The classes are mostly around the 30-minute mark, and in the first two weeks none is longer than 34 minutes, including both a warm-up and warm-down.
Here Are Three Things I Liked About The Summer Sculpt Challenge…
1. The Workouts Kept Me Motivated
I've never been very good at home workouts, although I've tried a lot of workout videos. I struggle to find the motivation to keep going and if I think about how close I am to making a cup of tea, that's usually the final nail in the coffin. However, the trainers in the Sculpt Challenge were more motivational than most. Perhaps it was having fitness icon McCall watching me as I sweated in my living room, but I didn't feel the urge to stop and make a cuppa. The trainers are motivating and make the classes fun.
2. You Don't Have To Look At Your Watch
On the right-hand side of the video—either on your phone or your laptop, if you cast from your phone like I did—you will see the workout metrics your Fitbit is tracking. These include your heart rate, calories burned and Active Zone Minutes.
3. The Workouts Scale To Your Level
A bonus is that the workouts are accessible for all levels of fitness, with guided descriptions of movements from the trainers throughout the videos. The intensity of each exercise can be easily adapted too with heavier weights.
…And Two Things I Didn't
1. It's Still Worth Manually Starting A Workout On Your Fitbit
Even though your stats are beamed onto the screen, the watch doesn't start tracking an event you can review in the app afterward, so if you want a complete record of your effort, be sure to start it manually on your watch. On my Fitbit Versa 4 I chose the generic "workout" activity option.
2. It Was All Over Too Soon
I felt the classes could have been longer. With the warm-up and warm-down accounting for around 10 minutes of the routine, you're left with just around 20 minutes' dedicated workout time.
However, if you're completely new to workout classes and routines such as these, the Summer Sculpt Challenge is a great way to add a new plan to your fitness regime. I followed the first two weeks alongside my normal marathon training programme and found it easy to add the extra training in, especially on days I couldn't be bothered heading to the gym!
How To Sign Up For Davina McCall's Summer Sculpt Challenge
The classes are available only as part of the Fitbit Premium subscription. This costs $9.99/£7.99 a month or $79.99/£79.99 a year if you pay up front. The Summer Sculpt Challenge isn't the only workout plan available on the platform, however: You'll find everything from yoga and Pilates to HIIT, targeted strength training and even dance training videos, while owners of some Fitbit trackers get extra metrics like a Daily Readiness Score.
Other Workout Apps And Home Workout Plans To Consider
Of course, Fitbit Premium isn't the only workout app and Coach has tried plenty. Our review of the Peloton App found it offered great value and plenty of variety. Chris Hemsworth's Centr app is like having a personal trainer, meal planner and mindfulness coach—and is as intense as that sounds. Apple Fitness+ is great if you own an iPhone or Apple Watch. But, the best workout app, in our opinion, is Fiit, especially now it broadcasts dozens of free fitness classes every day.
Or, if you're trying to reduce your screen time, follow this home workout plan or this home strength training plan instead.
Sign up for workout ideas, training advice, reviews of the latest gear and more.
Lois Mackenzie is a fitness writer working on news, features, reviews and buying guides for Coach and sister site Fit&Well. Lois is a hill walker and avid runner who is training for her first marathon. Before joining Coach, Lois worked as a senior SEO reporter at Newsquest Media Group.