I'm Naturally Sceptical But Compression Boots Really Do Feel Great And Help Me Recover From Marathon Training
I'm three weeks in to my marathon training and using compression boots regularly is making a world of difference to my recovery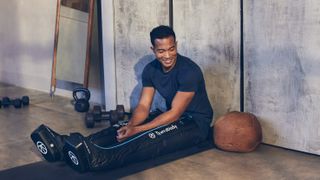 (Image credit: Therabody)
I would describe myself as a very keen and somewhat sceptical runner. I'm keen in that I have a coach, have been running six days a week for several years and have run eight marathons, with a PB of 2hr 29min.
I'm sceptical in that I believe there are only a few basic things that really make a real difference to your running. These are running consistently, mixing up your types of runs to get the right balance between easy and hard efforts, and then ensuring you recover well between runs by eating healthily and sleeping a lot.
There are other things I do to support my training, like regular yoga and the odd core strength session, but largely it's about running and recovering. Recovery-wise I think it's important to nail the basics rather than spending a lot of money on gadgets like massage guns, vibrating foam rollers or compression boots. Save that money for expensive carbon plate running shoes, I say.
However, I have been testing a variety of compression boots for Coach, and this has coincided with the start of my marathon training block for the Berlin Marathon. My mileage has climbed from around 50 miles (80km) a week to 70 miles (110km), with lots of hard sessions and long runs, with two 20-mile-plus efforts already in the bank.
Using compression boots after hard workouts and long runs in particular has made far more of a difference to the speed of my recovery than I expected. Last Sunday I ran 23 miles and attended a BBQ, yet after 30 minutes of using the Recovapro Air compression boots my legs felt great. Not quite good as new, but good enough that I leapt off the sofa and did some DIY – and I really hate DIY.
As well as the Recovapro boots, I've tested the Therabody RecoveryAir Jetboots and the Renpho Air Compression Leg Massager. The Recovapro ($715/£650) and Therabody ($899/£799) boots are very expensive, but have both worked wonders on my tired legs. The Renpho massager uses separate pads rather than full boots and is less effective, but much cheaper at $99.99/£79.99.
No set of compression boots is anything like a must for your marathon training, and the price is hard to swallow, but it's very convenient to be able to speed up your recovery while sitting down and watching TV.
I am a convert, then, and will be using them regularly ahead of the Berlin Marathon. And then extensively in the week following that race because I'm running the London Marathon seven days later. There's probably no recovery tool that's going to make that feel like a good choice.
Sign up for workout ideas, training advice, reviews of the latest gear and more.