The Nike Air Zoom Terra Kiger 8 can handle a range of trail types but struggles to stand out in a market where there are faster, lighter shoes that are also more comfortable.
For
Versatile
Comfortable upper
Against
Not very cushioned
Grip is unreliable on slick ground
Heavy
The Nike Air Zoom Terra Kiger 8 is a trail-running shoe designed to do it all. It has a stripped-back design and a ride that aims to balance cushioning and responsiveness so it's comfortable on easy efforts but speedy when required. The outsole looks like it should find purchase on hard and soft ground alike.
In practice, the shoe fell short on a few fronts. The ride is firm and responsive, but the shoe is too heavy to feel nimble or fast on the foot, and the lack of cushioning tells on long runs. The grip is unreliable on wet ground, especially slick, hard surfaces, and compared with the best trail-running shoes the Terra Kiger 8 struggles to compete.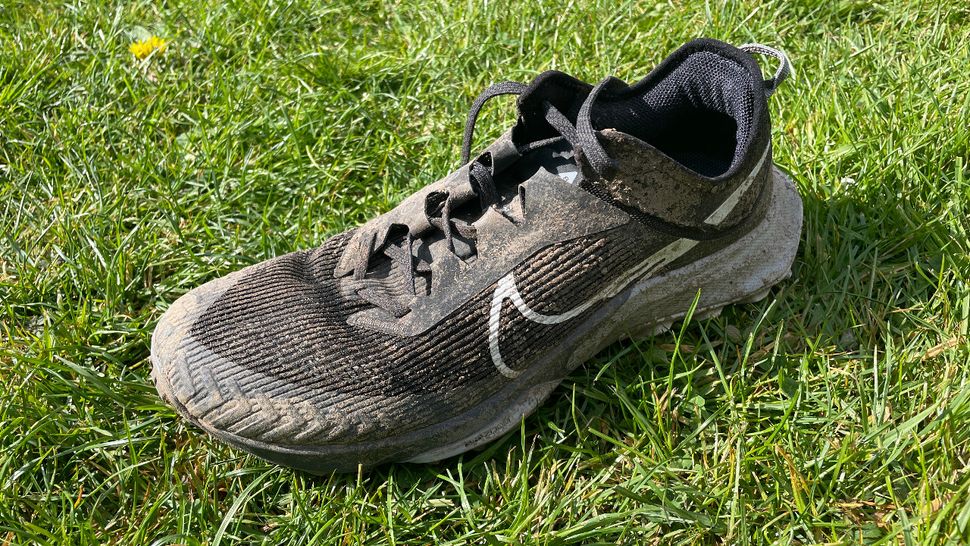 Nike Terra Kiger 8 Review: Price And Availability
The Nike Terra Kiger is available now from Sports Shoes and costs £124.95. It's the most expensive trail shoe in Nike's range, with the Pegasus Trail 3 costing £114.95 and the Wildhorse 7 £109.95.
Buy from Sports Shoes | £124.95
Design And Fit
The Terra Kiger 8 largely retains the same design as the 7, though there has been a change in the upper, which is now a more open mesh material with a liner underneath to keep debris out. There is a toe bumper at the front to limit the damage should you kick any rocks or roots on the run.
There is padding on the tongue and around the collar to hold the foot comfortably in place, and I found it was easy to get a secure fit around the midfoot and heel. The shoe does have a roomy toe box and even going half a size down I had plenty of space, so I would suggest going down a half size, especially if you have a narrow foot like I do.
The midsole uses Nike's react foam and there is an Air Zoom unit in the forefoot to add more pop to your toe-off. There is also a rock plate in the forefoot to protect your feet on jagged terrain.
On the outsole of the shoe are multi-directional lugs made from high abrasion rubber. The lugs are reasonably deep and the Terra Kiger 8 is capable on a range of terrains, but mainly designed for harder ground rather than muddy tracks.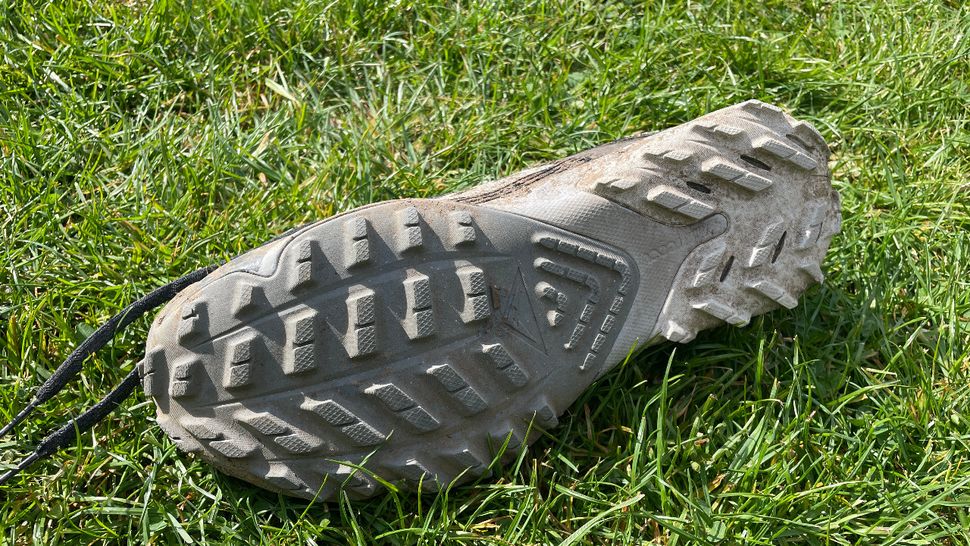 How I Tested This Shoe
I ran 50km in the Terra Kiger 8 covering different terrain, including well-maintained forest paths, narrow and muddy single-track trails, gravelly canal towpaths and road. My longest run in the shoe was 16.5km and I did a mix of easy and fast runs in the shoe to see how it felt at different speeds.
Running Performance
While there was nothing truly terrible about running in the Terra Kiger 8, I found it a hard shoe to love. That's largely because it doesn't excel on any front. It's a versatile shoe that can go fast or slow on a range of ground, but it's neither enjoyably cushioned nor especially nimble and quick, partly because it weighs 309g (my UK 8.5).
That's not heavy for a trail shoe, especially as it has fairly deep outsole lugs, but given that weight I'd expect a more comfortable, cushioned ride. Instead, it's a firm shoe that can feel harsh when running long stints on harder ground. That's especially the case in the forefoot where you can feel the hard lugs through the Air Zoom pods.
Those hard lugs feel like they will last a lifetime, but they don't always provide great grip. On wet ground, particularly slick rocky tracks, the shoes are unpredictable. I never slipped over but the small amounts of lateral movement I'd feel regularly did not inspire confidence and I would slow down on any kind of wet ground as I didn't feel I could rely on the grip.
Since that all sounds like a daming appraisal of the shoe, I should reiterate that it did a solid job on all my runs. On a 16.5km run – mainly on smaller forest trails with some deep mud and sharp descents on loose ground – it provided the grip and cushioning needed, and I have done faster running in the Terra Kiger 8 at the end of progression runs happily enough.
The problem is that it wouldn't be my first pick for any kind of trail run. It's firmer than I like for a shoe that isn't nimble or all that quick, and the grip creates doubts that stick in the mind when slick terrain comes along.
Is The Nike Air Zoom Terra Kiger 8 Worth It?
Perhaps the main problem the Nike Terra Kiger 8 has is the strength of its competition. I was testing it at the same time as the excellent Hoka Speedgoat 5, which costs only £5 more and is lighter, yet far more cushioned, and has a fantastic outsole that can handle almost any terrain.
Other great all-rounders I'd rate ahead of the Terra Kiger include the Saucony Peregrine 12, which does a great job on muddy ground, the lightweight Hoka Torrent 2 and the comfortable Salomon Sense Ride 4.
If you're sticking with the swoosh no matter what, the best Nike running shoe for road-to-rail sessions is the Pegasus Trail 3.