The Best Nike Running Shoes For Every Type Of Runner
From world record-setting speedsters to trail-running shoes, Nike ticks all the boxes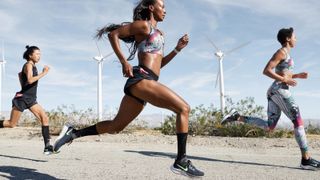 (Image credit: Nike)
The hype surrounding each new release would suggest that every brand makes the best running shoes. Of course, all of them have strengths and weaknesses, and what the perfect shoe is will change with regard to what the individual runner needs from it.
That said, Nike can claim to have come closer than most to creating the perfect shoe, for racing at least, because there are few runners who have tried the Nike Vaporfly and disliked it. It's the racing shoe that changed the game and it remains one of the best carbon plate running shoes, and runners of all levels have used it to set world records and PBs at a range of distances in recent years.
However, high-stack racing shoes like the Vaporfly aren't for everyone. In fact, they're not for many, because they cost more than $250/£200 and should really be saved for key training runs and race day. Fortunately, Nike has a range of other shoes that fit the bill for all kinds of runners, so whatever you're hoping to achieve, there'll be one that works for you.
How I Test Nike Running Shoes
Why you can trust Coach Our expert reviewers spend hours testing and comparing products and services so you can choose the best for you. Find out more about how we test.
I usually run around 70-110km a week and race regularly, which allows me to test a lot of running shoes, including almost all Nike's road and trail-running shoes. I have used Nike's racing shoes to run sub-2hr 30min marathons and 15-minute 5Ks, and logged hundreds of miles in the brand's training shoes.
The Best Nike Running Shoes
Best all-rounder
Specifications
Weight:
9.3oz / 265g (UK 8.5)
Reasons to buy
+
Versatile ride
+
Use of recycled materials
+
Rocker works well
Reasons to avoid
-
Firmer and heavier than the Pegasus Turbo
Nike hasn't really had a top-class all-rounder in its running shoe line-up since it discontinued the original Pegasus Turbo, so I was delighted when the Pegasus Turbo Next Nature finally came along to fill the gap. The Nature uses recycled materials, including recycled ZoomX foam in the midsole, and while it's heavier with a firmer ride than the original Turbo, it still works well as a versatile shoe that can handle long, short, fast and slow runs well.
Those looking for a like-for-like replacement for the original Turbo might well be disappointed by the Nature, but it's a grower – the ride softens and becomes more enjoyable the more you use it.
Read more in our Nike Pegasus Turbo Next Nature review
---
Best value
Specifications
Weight:
9.8oz / 279g (UK 9)
Reasons to buy
+
Lighter than Pegasus 38
+
Good value
+
Comfortable and versatile
+
Great outsole
Reasons to avoid
-
Not the softest or bounciest ride
-
Heavy for speedwork
The long-running Pegasus line has always been a favourite among runners looking for a good-value, no-nonsense trainer for various types of run. The latest edition lives up to those expectations: it's lighter and quicker than the Pegasus 38 while still comfortable to use for regular easy runs.
While the React midsole is not the liveliest foam in Nike's line-up, it is durable and protects the body well from the impact of road running. The Pegasus 39 also has a great outsole that grips well on light trails, increasing its versatility further. As a long-lasting all-round shoe that's fairly cheap at its full RRP and often in sales, the Pegasus 39 is undoubtedly the best option for value hunters in Nike's line-up.
Read more in our Nike Air Zoom Pegasus 39 review
---
The best cushioned Nike running shoe
Specifications
Weight:
10.7oz / 303g (UK 9)
Reasons to buy
+
ZoomX foam gives a soft and springy ride
+
Very comfortable for easy training runs
+
Fairly versatile
Reasons to avoid
-
Not very stable due to soft midsole
-
Expensive
-
Few changes from predecessor
The Invincible brings the soft and springy ZoomX cushioning used in Nike's top racing shoes to a max-stacked cushioned trainer, and the result is a seriously comfortable and enjoyable ride for your easy runs.
While it's not as stable as some cushioned shoes owing to the soft foam used, the Invincible 2 has a wide base and heel clip to provide extra support. If you're not worried about the stability, the ride is fantastic – the Invincible is bouncier than pretty much any other shoe on the market.
The Nike Invincible 3 is now available, but the changes made to the new shoe have made it heavier and less fun to run in than the Invincible 2. Since the older shoe is now often in sales as well, it's the one to go for while stocks last.
Read more in our Nike ZoomX Invincible Run Flyknit 2 review
---
The best Nike running shoe for half marathons and marathons
Specifications
Weight:
8.6oz / 244g (UK 9)
Reasons to buy
+
Efficient and fast ride
+
Comfortable over long distances
+
Improved transition over original
Reasons to avoid
-
Heavier than original
-
Less impressive on twisty courses
-
More expensive than rivals
The second edition of Nike's top carbon racer has some small but important updates on the original: more foam under the forefoot, more structure in the upper, and a refined geometry to make the transition from heel to toe smoother.
While these changes make the Alphafly 2 heavier than its predecessor, the result is an even more impressive shoe that I rate as the best marathon racing shoe on the market. When you're running straight on good roads, the energy return you get from the ZoomX foam and Air Zoom pods underfoot is unrivalled, and the Alphafly 2 makes ticking off kilometres at race pace feel almost effortless at times.
When taking turns, the shoe can feel a little unwieldy – that's why the Vaporfly 2 is the better option for twisty courses, especially over 5K and 10K distance – but once you hit a straight there's no faster shoe available than the Alphafly 2. You will have to pay through the nose for the privilege of using it.
Read more in our Nike Alphafly NEXT% 2 review
---
Best for 5Ks and 10Ks
Specifications
Weight:
7.3oz / 207g (UK 9)
Reasons to buy
+
New upper is more comfortable
+
Springy ZoomX midsole with carbon plate
+
Great for races of any distance
Reasons to avoid
-
Expensive
-
Some runners find it unstable
There's a case for saying the Vaporfly 2 is the best racing shoe in Nike's line-up full stop, especially since it's now £50 cheaper than the Alphafly (the original Vaporfly NEXT% was £239.95). While I just prefer the Alphafly for longer races, the Vaporfly 2 is still a great half marathon and marathon distance racer, and it has the edge on its heftier stablemate in shorter events.
That's partly because it's lighter, but also because it has a more stable ride that makes rounding corners at speed easier, which comes into play more in shorter races like 5Ks. The Vaporfly doesn't have the propulsive Air Zoom pods you find in the Alphafly under the forefoot, but it still packs in a stack of light and springy ZoomX foam and, of course, a carbon plate.
Aside from the price drop, the only notable updates to the second Vaporfly NEXT% are found in the upper, which is now a breathable knit. These changes are for the better in the toe box, where you get a roomier fit, but I did find the second edition of the NEXT% rubbed at the heels more than the first. You may not experience that, but it's something to look out for.
Read more in our Nike Vaporfly NEXT% 2 review
---
A speedy option that's much cheaper than the Vaporfly
Specifications
Weight:
6.4oz / 182g (UK 9)
Stack:
32mm heel, 26mm forefoot
Reasons to buy
+
Light
+
Soft and springy ZoomX midsole
+
Good value
Reasons to avoid
-
Lacks the propulsion of a carbon plate
-
Suited to shorter races only
The Vaporfly and Alphafly might be terrific racing shoes but they're not for everyone. If you're a runner who sticks mainly to short-distance events, such as 5Ks and 10Ks, and wants a lower-profile shoe more in line with classic racing flats then it's worth checking out the Streakfly.
While there is no carbon plate in the Streakfly, it has the same bouncy ZoomX midsole as Nike's top racers, and a Pebax shank in the midfoot provides extra pop to your transition to the forefoot with each stride. It's also a light shoe, which is a benefit when attacking shorter races.
I still rate the Vaporfly as the more accomplished short-distance racer thanks to the carbon plate, but the Streakfly is much cheaper and still speedy, and it's a fun shoe to use for interval sessions as well.
Read more in our Nike ZoomX Streakfly review
---
Best for fast training
Specifications
Weight:
9.8oz / 277g (UK 9)
Reasons to buy
+
Faster than it looks
+
More durable than racing shoes like the Vaporfly
Reasons to avoid
-
Heavy for a fast training shoe
-
Mix of foams and tech creates awkward ride
-
Noisy
-
Expensive
There's a lot going on with the Tempo NEXT%, which has two different foams, a carbon composite plate, and an Air Zoom pod in its midsole. The blend of all this tech makes for a slightly odd ride, but it's an undeniably fast one despite the fairly hefty build of the shoe. But while the Tempo is a great training partner for the Alphafly, unfortunately it has too high a stack to be legal for road races itself. It's unlikely anyone will care if you do use it for them – it's far from an advantage compared with using a proper carbon plate racer – but it's worth noting.
Read more in our Nike Tempo NEXT% review
---
Best workhorse Nike running shoe
Specifications
Weight:
10.9oz / 310g (UK 9)
Reasons to buy
+
Stable design
+
Durable
+
Smooth ride
Reasons to avoid
-
Can find better value elsewhere
-
Not the most exciting ride
-
Similar to predecessor
The Nike Infinity line sits in the "stable neutral" category of running shoes, providing extra support through a plastic heel clip and wide base without being a full stability shoe designed to counter overpronation. The third edition of the shoe follows the same formula as the Infinity 2, with a Flyknit upper and a React foam midsole containing a rocker that delivers a smooth if slightly dull ride.
It's a durable shoe for racking up a lot of miles and the extra support it provides will be appreciated by any runner who is logging a lot of training and wants a reliable option to protect their legs on easy runs. It's not the speediest option going, or the cheapest, but pick up the Infinity Run 3 and you'll have a workhorse trainer that will serve you well for many hundreds of kilometres of easy running.
Read more in our Nike React Infinity Run Flyknit 3 review
---
Nike Air Zoom Structure 24
Best Nike stability running shoe
Specifications
Weight:
11oz / 312g (UK 10)
Stack:
27mm heel, 19mm forefoot
Reasons to buy
+
Stylish design
+
Smooth, comfortable ride
If you need a shoe to combat overpronation, the Zoom Structure is a great pick that has been favoured by stability-seeking runners throughout its 24-version history. The amount of stability the Zoom Structure offers isn't overbearing: the heel overlay and midsole support guide your foot smoothly through the heel-to-toe transition, rather than forcing it into line in an uncomfortable manner. As this kind of shoe goes, the Structure is a relatively speedy and light option, and works well for both training and racing if you find the lack of stability in shoes like the Vaporfly makes them unusable.
More of the best stability running shoes
---
Best Nike trail-running shoe
Specifications
Weight:
11.2oz / 317g (UK 8.5)
Stack:
37mm heel, 33mm forefoot
Reasons to buy
+
ZoomX foam in midsole
+
Smooth ride
+
Comfortable, protective upper
Reasons to avoid
-
Not the lightest
-
Slippery in the wet
The Zegama is the first trail shoe to use Nike's ZoomX foam, which is paired with an EVA foam called SR-02 in the midsole to ensure the Zegama is still stable enough for off-road runs on uneven ground. It's a high-stack shoe built to protect the legs on even the longest trail runs, and it is certainly comfortable. It also grips well on a range of dry trails, and the upper has a gaiter around the ankle to reduce the amount of debris that sneaks into the shoe.
Unfortunately the Zegama's outsole struggles on wet ground in the same way as other Nike trail shoes, and I found I had to slow down and carefully pick my way across hard, wet ground in particular. Runners used to the bounciness of ZoomX in Nike's road shoes might also be surprised and disappointed by the firmer feel of the Zegama, though taking to the trails in a shoe as squishy as the Invincible 2 would be asking for trouble.
Read more in our Nike ZoomX Zegama review
---
Best Nike road-to-trail running shoe
Specifications
Weight:
10.4oz / 294g (UK 9)
Reasons to buy
+
Comfortable on roads and trails
+
Lighter than Pegasus Trail 3
+
Improved grip compared with 3
Nike's trail-running shoe line-up is not well stocked with great options for treacherous mountain trails or boggy ground, but the Pegasus Trail 4 is a versatile road-to-trail option that can handle most terrain well.

The Trail 4 is lighter than the 3 and has a redesigned outsole to provide better grip on slick or muddy tracks, though it remains a shoe best suited to light and dry trails. Keep it on well-groomed trails and the road, and the Pegasus Trail 4 is a very comfortable option. It certainly doesn't hurt that it's a bit of a looker as well.
Read more in our Nike Pegasus Trail 4 review
FAQs
Are Nike shoes good for running?
Nike's running shoes are indeed good for running, but the bigger question is how they stack up against other brands, because there are a lot of excellent options out there. At the top end of the market, Nike's racing shoes are as good or better than anything else available – the Nike Vaporfly and Alphafly are among the best carbon plate running shoes you can get.
There are also a lot of excellent cushioned shoes in Nike's range. The Invincible is uniquely soft and bouncy compared with other brands' offerings, and the Infinity and Pegasus lines produce reliable, stable rides for easy and long runs. I prefer some of the best cushioned shoes from other brands, but Nike holds its own here too.
One area where Nike is behind other brands is a really good all-rounder that works well for every type of run from easy plods to races. The original Pegasus Turbo served this role well, but the new Nike Pegasus Turbo Next Nature isn't quite as good. Shoes like the Saucony Endorphin Speed 3 or Hoka Mach 5 offer more on this front.
Although Nike does make a couple of the best trail-running shoes – the Pegasus Trail 4 is a great road-to-trail option – those tackling ultramarathons on mountainous terrain, or hitting deep mud during their off-road runs, are better served by other brands. The grip of Nike's trail shoes in particular has often proved underwhelming during my testing.
Sign up for workout ideas, training advice, reviews of the latest gear and more.