What Are Super-Trainers And Is This Type Of Running Shoe Worth It?
Super-trainers bring the race-day tech of super-shoes into your daily trainers, but are they worth their high price?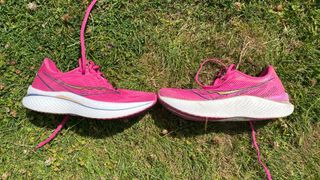 (Image credit: Nick Harris-Fry / Future)
There is no doubt that the best carbon plate running shoes have revolutionized the sport of running. Shoes like the Nike Vaporfly have changed racing forever, and along with boosting performances they have sent the price of the best running shoes rocketing, with most super-shoes costing north of $200/£200.
Given the popularity of super-shoes for race day, it was perhaps inevitable that brands would try to sprinkle that stardust on shoes designed for training, which people use (and buy) a lot more often. And so the super-trainer was born. This category contains some of my favorite running shoes available, although the downside is that super-trainers tend to cost a lot more than traditional daily trainers.
So do you need a super-trainer? And what exactly are they? I've tested and reviewed pretty much every super-trainer available and use them regularly for my training and I'm still not 100% sure on either count, but here's what I've learned about them.
What is a super-trainer?
A super-trainer is a shoe designed for training runs that has some of the tech found in carbon racing shoes. This might be the same midsole foam, or some kind of plate in the midsole to add propulsion. For example, the Saucony Endorphin Speed 3 super-trainer has the same midsole foam as the Saucony Endorphin Pro 3 racing shoe, but uses a nylon plate instead of carbon plate to make it less stiff and more comfortable for frequent use.
The above might seem clear but there are some shoes that blur the lines, like the Adidas Prime X 2 Strung: It's billed as a racing shoe by Adidas, but has a stack taller than the 40mm limit set by World Athletics, so elites can't use it for racing, though amateurs can. For pros it could be a super-trainer, while for the average runner it could be a racing shoe.
What are super-trainers for?
Super-trainers are designed to bring the bouncy, efficient ride of carbon racers into your daily training. With more durable, stable and comfortable designs than super-shoes, super-trainers can be used more regularly.
Some super-trainers are built for fast training runs and can double as race-day shoes as well, like the Asics Magic Speed 3. Some are more versatile and are built to handle all your daily training, from slow plods to speed sessions, such as the Adidas Boston 12.
There are also super-trainers that are geared more towards easy runs, or to be a plated option for newer or heavier runners who don't get on with either super-shoes or lighter super-trainers, like the Saucony Kinvara Pro.
How are super-trainers different from daily trainers?
Traditional daily trainers like the Nike Pegasus 40 or Puma Velocity Nitro 2 tend to be far simpler and cheaper than super-trainers. They are designed to work well for lots of different training runs while lasting a long time, and don't have tech like plates in the midsole.
Super-trainers do the same job, but better—that's more or less the pitch running shoe brands make. They have a more exciting ride and will be faster and more efficient for speedy runs. The trade-off is you pay more.
How are super-trainers different from super-shoes?
Some super-trainers may look almost identical to super-shoes, but there is always some aspect of them that differs from the racing shoe in a brand's line-up. This could be a different material for the plate, or a different foam in the midsole, or a more padded upper and thicker outsole, which adds weight you don't want in a super-shoe for racing but is worth having to add comfort and grip in a trainer.
Sometimes the difference can be even more subtle, like a slightly different version of the same foam and different geometry that makes the super-trainer more stable and less speed-focused than the racing shoe. For example, the New Balance SC Trainer v2 looks very similar to the New Balance SC Elite v3 racing shoe, but the difference in how the shoes feel on the run is very noticeable.
The main differences can be summed up as super-trainers are usually a little more comfortable, stable and durable than super-shoes, which are purpose-built for race day. Super-trainers are also generally cheaper.
Why are super-trainers so expensive?
Most super-trainers cost somewhere between $160/£160 and $200/£200, which is a lot for a training shoe. The argument for the high price is that they use the same expensively developed tech used in super-shoes and offer a higher level of performance than traditional daily trainers. It makes sense but I suspect, as always, the main reason the price is so high is simply because people will pay it.
Do you need a super-trainer?
The good news with regards to the high price is that you don't need a super-trainer. A cheaper daily trainer will do the same job perfectly well, even if it's not quite as good as the most exciting super-trainers. A shoe like the Puma Velocity Nitro 2, which is often in sales for well under $100/£100, is a great alternative.
There can be some value to buying a super-trainer though, in that the best of them are very versatile and could take the place of two shoes in a running shoe rotation. The category also contains the best all-round running shoes available, like the Saucony Endorphin Speed 3, Adidas Boston 12 and Asics Superblast, so if you're a runner who just uses one shoe it might be worth the investment.
Another way super-trainers provide value is by being a cheaper alternative to the best carbon racing shoes, since they deliver a high level of performance at a lower price.
What is the best super-trainer?
The Saucony Endorphin Speed is the shoe that really kick-started the super-trainer trend. It was launched as a training partner to the Saucony Endorphin Pro, but quickly became established as the best all-rounder on the market, and that remains the case with the third version of the shoe. I've used the Speed for everything from 5K races and track sessions to slow recovery runs, and it always comes up trumps. The Saucony Endorphin Speed 3 is also a bit cheaper than many super-trainers, and now often in sales because it's been out for more than a year.
I'd say the Adidas Boston 12 is also worth considering as a wonderfully versatile super-trainer. It's also cheaper than most super-trainers while being better than almost all of them. The Asics Superblast is also excellent as a max-stacked shoe without a plate that can handle any kind of run well, but it does come at a high price.
Sign up for workout ideas, training advice, reviews of the latest gear and more.