Half Marathon Tips To Help You Train And Run A Better Race
Use this expert advice to improve your training and excel on race day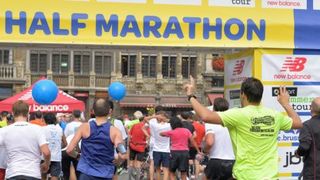 (Image credit: Unknown)
If you've signed up for a half marathon, we hope we don't need to tell you that it's a long old way to run in one go. While training for it is less demanding than for a full marathon, in that you don't need such a comprehensive nutrition strategy for your race and the long runs are far more manageable, it's still smart to plan how you are going to approach your preparation and race day itself.
To aid you in that endeavour we have these tips from Carl Martin, personal training manager at E by Equinox, which is the official training partner of the London Landmarks Half Marathon.
Half Marathon Training Tips
Follow A Training Programme To Suit Your Level
Whether you're an experienced runner racing for a time or you're planning to complete the distance for the first time, it's easy to feel lost without a structured training plan. We have half marathon training plans for all levels.
If you're worried you won't stick to the plan, keep a training diary. It's a great way to increase accountability, and looking back on all you have achieved before race day can be motivating.
You Don't Need To Run The Full Distance In Training
You achieve the fitness to accomplish the race by logging frequent runs. Completing the distance on the day is mostly a mental challenge – pushing past low moments and coping with discomfort, to name a few.
Cross-Training Helps
Endurance activities like running call for lots of movement in one plane of motion. Restoring balance with lateral and rotational exercises is essential. Try something like rock climbing, swimming or dancing. The goal is to vary the stress being placed on your body.
Strength Is Essential
Lifting weights can help balance the running training by reducing the chance of injury, enhancing recovery and increasing speed.
Don't Forget Your Core
Lower back aches can be a common complaint for new runners or those increasing the number of miles they run in a week. Working on your glutes and core can help – try this 20-minute core workout from Equinox to get you started.
Power Down To Power Further
The quickest way to derail your training is by getting injured. Ensure you warm up properly, keep your pace in check while training and racing, include recovery strategies such as mobility work in your training, and try to get the best sleep possible before race day.
See related
Half Marathon Tips For Race Day
Take Hydration Seriously
Make sure you stay hydrated throughout the day before race day. Look at the race map and locate the water stations along the route to help decide whether to take a bottle with you or not. Remember, don't try anything new on race day.
Eat What You Know
Don't eat anything too heavy or rich the night before – if you don't normally eat pasta don't start now! Just ensure that your meal is balanced and filling, full of nutrients and not too high in salt. This goes for your breakfast before the race too – don't suddenly start having fibre-rich food because it will encourage bowel movements. Go with what you know so you feel at your best when you arrive at the start line.
Monitor Your Breathing
With the excitement of race day it's common for runners to set out too fast and falter later in the race. Staggered breathing can help you stay focused and improve running performance. To stagger your breath, inhale for three steps and exhale for two. Counting requires focus, which will prevent you from going into autopilot as your body tires and your mind starts to wander.
For more information on the London Landmarks Half Marathon visit llhm.co.uk
Sign up for workout ideas, training advice, reviews of the latest gear and more.