We Tried The New Maurten Solid 225 Bar And It Could Be The Perfect Fuel For Marathon Training
Made from a mix of oats and rice, the Maurten Solid 225 bar is a performance-focused solid food to help you power through training and races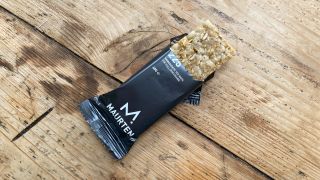 (Image credit: Nick Harris-Fry / Future)
Maurten's energy drinks and gels are by now familiar to most keen runners and cyclists, who have watched elite athletes like Eliud Kipchoge, Flora Duffy and Molly Seidel use them to fuel Olympic medal-winning and world record-setting performances.
We're not winning medals or breaking records, but we are also big fans of Maurten's running supplements and rate them among the best energy gels and best sports drinks that you can get, even given their high price. That's down to the hydrogel technology Maurten has developed, which makes it possible to consume vast amounts of carbs to fuel your performance with less risk of upsetting your stomach.
The new Maurten Solid 225 bar is a step away from that hydrogel technology, however, taking sports nutrition back to basics. It's a mix of oats, rice and sugar, and delivers a huge hit of carbs in a chewy form that makes it ideal for pre- or post-training, or to eat during long, lower-intensity runs and rides where you're able to chew on the go. During races and high-intensity activities, the hydrogel drinks and gels would remain your best option as they're easier to get down.
There are a lot of high-carb bars out there – we're partial to chocolatey cereal bars before our runs – but Maurten says the Solid 225 stands apart as a performance-focused product, rather than a snack bar.
One way this is achieved is by keeping the fibre content low, which should reduce the risk of gastrointestinal distress during your activities if you eat the bar beforehand. Top of the ingredients list is fructose-glucose syrup, which also marks the bars out as similar to other sports energy products, rather than being a tasty snack.
The bars cost $3 each in the US and £2.50 in the UK or you can buy a box of 12 bars for £30. They come in two flavours – the standard Solid 225 and Solid 225C, which contains cocoa. Individual bars and boxes are on sale from maurten.com now.
Each 60g bar contains 225 calories, around 44g of carbohydrates, of which 18-20g is sugars, and not a lot else with just 2-3g of protein and 3.6g of fat.
Maurten Solid 225 Taste Test
The bars have a fairly mild flavour to start with and an enjoyable texture that's a little chewier than a classic Rice Krispies bar. The sweetness does kick in hard after a few chews, but doesn't linger in the mouth so you're not left with itching teeth and an urge to immediately whip out your toothbrush.
The bars very much feel like fuel for exercise, rather than a treat, something enhanced by the stark black packaging and the fact they're called Solid 225, which is hardly an appetising name. That's probably a good thing – all too often I've chowed down on sporty energy bars just for a nice snack, but I'd save the Solid 225 for training days, especially at $3 a pop.
Given that Maurten has gone back to basics here, the price is pretty high for what seems to be a syrupy mix of oats and rice. These will be effective energy bars, and lighter on the stomach than the fibre-rich cereal bars I would usually eat when rushing to get something down just before heading out for an early run, but as with other Maurten products you pay a premium.
Sign up for workout ideas, training advice, reviews of the latest gear and more.