Eat More Veg With This Five-Day Meal Plan For Families
Each recipe in this five-day plan contains two of your five-a-day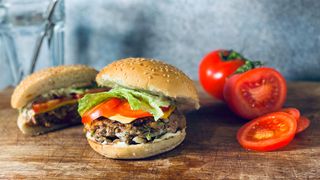 (Image credit: Courtesy Fruit Bowl)
Even though we all know we should do it, as a nation we're not great at eating five portions of fruit and veg a day, every single day. One common obstacle to overcome is having to make meals that are palatable to both adults and children, which is why we were very taken with this family-friendly five-day meal plan in which each dinner contains at least two portions of your five-a-day.
Better still, it's full of recipes that slip in large amounts of veg almost without you realising, which can be a huge boon when dealing with fussy eaters.
The meals have been created by BBC MasterChef semi-finalist and cookbook author Theo Michaels' FiveDinners service, in partnership with children's fruit snacking company Fruit Bowl. We recommend taking a closer look at the FiveDinners meal planning service, because it provides five recipes a week with a shopping list for just £5 a month. It's an intriguing option if you've considered recipe boxes or healthy meal delivery services but have been put off by the prices.
The five-day plan below is a sample of what you get from the service, with five tasty, healthy dinners for families on offer.
Chimichangas
These crisp burritos filled with chicken and veg will delight all ages, and it's easy to substitute the chicken with another type of meat, fish or even more veg if preferred. The meal takes 20 minutes to prep and 18 minutes to cook.
One Pot Sausage And Vegetable Rice
Any recipe with "one pot" in the title interests us, because it usually means it's pretty simple and always means there's not much washing up. This paella-style dish takes just 22 minutes to make from start to finish, and it's great for using up leftovers, since you can swap the veg and meat in the recipe for whatever you want.
Sneaky Vegetable Beef Burgers
If you make your own burgers the opportunities to sneak in sliced and diced veg are close to endless. This simple burger recipe does just that, and if you're not trying to be too sneaky it's always fun to make burger patties with kids too.
Sweet Potato And Broccoli Calzone
Everyone loves pizza, and these calzone "pizza pockets" are a great way to make a healthy, tasty and fun dinner. Once your chosen veg is slathered in tomato purée and cheese and wrapped in a tasty pastry, it's sure to satisfy even the fussiest eaters.
Spinach And Turkey Meatballs With Gnocchi
This one-pot dish involves crafting healthy meatballs from a winning combo of lean turkey mince and spinach. Mix them with gnocchi in a tomato sauce for a hearty dinner that takes only 35 minutes to make.
Recipe created for the Fruit Bowl #5in5Challenge by Theo Michaels in partnership with FiveDinners.com. For more recipes, go to fruit-bowl.com or Instagram: @thefruitbowlfamily #5in5Challenge #FruitMadeFun
Sign up for workout ideas, training advice, reviews of the latest gear and more.