Keep Fit With This Home Workout For Over-40s From Harry's Heroes Coach Luke Worthington
Use this advice and home workout to keep fit in your 40s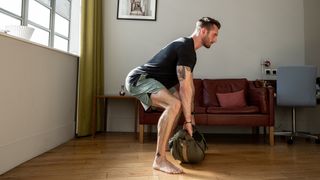 (Image credit: Unknown)
It doesn't matter who you are – staying in shape becomes that little bit tougher once you hit your 40s. Your body becomes more adept at gaining weight and takes longer to bounce back from injuries.
That's true of average Joes and former professional athletes alike, as you can see if you tune in to Harry's Heroes: Euro Having A Laugh, where elite performance specialist Luke Worthington has teamed up with ex-Tottenham manager Harry Redknapp to whip a bunch of former footballers into shape for a match against (who else?) the Germans.
If Worthington can get the likes of Paul Merson and Matt Le Tissier – hardly the models of fitness even during their pro days – into shape in middle age, we thought he'd have plenty of useful advice for the average man too, so we enlisted him to share tips and a home workout you can try.
How should your training change when you hit 40?
"The rules for training over 40 are no different really to those at any other age," says Worthington. "The difference is that when you're a little older, the body is a little less forgiving if you don't follow them."
What kind of training should you do?
"Fitness has a number of measures," says Worthington. "They are muscular strength, work capacity, mobility, body composition and mental wellbeing. Prioritising resistance training is the most efficient way of improving all of those measures.
"A body that is stronger can produce more force, but it can also absorb more too. This will mean that other activities such as running, team sports, circuit training and even dancing are easier to do, and also less likely to cause injury. Increasing the volume of these activities is essential for building work capacity, but first you need a body that's resilient and strong enough to cope with the workload.
"Mobility through all four limbs is derived from the stability and strength of the torso, and body composition is essentially improving the ratio of lean muscle to body fat. Resistance training allows us to build and preserve that lean muscle, while reducing our body fat. If all we did was cut calories we'd be burning both fat and muscle."
How often should you train?
"I typically put clients on a three-workouts-a-week resistance plan, plus two specific conditioning workouts," says Worthington. "One of the conditioning workouts will be a high-intensity interval style workout, and one a low-intensity long workout. Mobility work features at the start and end of every workout."
See related :
Home Workout For Over-40s
The session below is designed to work the body in five ways. "We have to cover the fundamental human movements of push, pull, squat, hinge and lunge," says Worthington.
Sets 3 Reps 8-10
Adopt the press-up position, lower your chest to just above the floor, then push back up.
"This is a surprisingly difficult movement to do well," says Worthington. "You can make it easier by placing your hands on a chair or stool to effectively bring the floor closer to you. Or if you're more advanced, you can progress it by putting your feet on the chair to take the floor further away."
2 Towel row
Sets 4 Reps 8-10
"Pull is the hardest movement to perform at home, but it is possible if you get creative," says Worthington. "Just be sure to do so safely.
"The simplest way I have found with clients is to improvise a suspension trainer by looping a bath towel around the top corner of a door and using this as an anchor point to perform a row."
Sets 3 Reps 6-8
"We might not be hitting barbell squat PBs any time soon, but squats aren't hard to do at home," says Worthington. "They're an easy one to replicate as we do this every time we stand up from a chair. For a beginner, simply sit on a dining chair then stand up without using your hands.
"If you're more advanced, take the chair away and hold any form of load in front of you."
Holding the weight in front of your chest, push your hips back and squat down until your thighs are at least parallel to the ground, then drive back up to standing.
Sets 4 Reps 8-10
"A deadlift is just bending down to lift a heavy object from the floor," says Worthington. "While barbells and dumbbells are designed for this, you can really use any object."
Stand with your weight on the floor in front of you. Hinge at the hips and bend your knees to lower and grab the object, keeping your back straight. Then lift it by straightening your legs and thrusting your hips forwards.
Sets 3 Reps 8-10 each side
"A split squat – sometimes called a static lunge – is a good place to start with lunge movements," says Worthington. "Progress on to reverse lunges next, then forward, and eventually side lunges."
Stand holding a weight in front of your chest. Take a big step forwards on one leg – this is your starting position. Bending at the knees, lower until the back knee almost touches the ground, then push back up. Perform all your reps on one side, then switch.
Harry's Heroes: Euro Having A Laugh airs on Monday evening on ITV at 9pm
Sign up for workout ideas, training advice, reviews of the latest gear and more.