What London Marathon Runners Need To Know About The Race's Sustainability Changes
Look out for these small changes as the event becomes more eco-friendly in 2019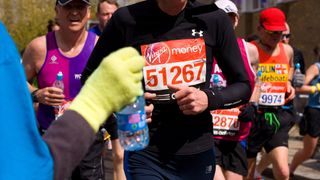 (Image credit: Unknown)
With tens of thousands of people coming together to challenge their physical endurance and raise money for good causes, supported by tens of thousands more, the London Marathon is a brilliantly positive event on almost every count.
The exception to that may be its effect on the environment. A whole lot of plastic gets used at the event, mainly at water stations where bottles are quickly discarded by runners after just a couple of sips.
Now, no-one is going to take runners to task for staying hydrated during a marathon – you do what you need (within reason) to get around 42.2km in the best shape possible. However, the organisers of the event have recognised it's not a great situation and so are making some changes to the 2019 race to make it more sustainable.
This starts with reducing the total amount of drinks stations from 26 to 19. There will still be drinks available at a minimum of every two miles (3.2km) – aside from at the start because the first station is at mile three – but in previous years it's been more like one every mile, and this reduction will mean there are around 215,000 fewer plastic bottles on the course.
Some changes have also been made at those stations. The Lucozade on offer at miles 11 and 19 will have the drinks in compostable cups rather than bottles. Top tip for drinking from those cups on the run: squeeze the brim to form a spout and pour the liquid in, rather than trying to sip. Trust us, it's less messy.
See related
The most interesting change comes at mile 23, where Lucozade Sport will be provided in 25ml Ooho seaweed capsules. These are entirely edible pouches containing the sports drink, and they are also vegan and allergen-free. If you don't want to eat the pouch, however, it's easy to nip off a corner and drink the liquid.
Another novel idea being tried this year involves 700 runners wearing a special bottle belt designed to carry the 250ml water bottles available on the route. The idea is that they will actually carry the bottle with them and finish it before taking another from a station, rather than sipping from it and throwing it away. This will also allow race organisers to get a better idea of how much a runner drinks during a marathon.
If you're running the event you will have received an email inviting you to take part in the trial. If you sign up for it you'll get the belt in advance of the race so you can train with it. At the end of the event it'll be taken off you and cleaned so it can be reused.
Most runners will still be throwing away their used bottles, however, so the London Marathon has taken steps to make that more sustainable too. There are closed-loop recycling systems in place in Tower Hamlets, Greenwich, Southwark and Canary Wharf, where used plastic bottles will be returned directly to a bottle processing plant. The route will also have drop zones where runners are encouraged to discard their bottles to speed up the clean-up afterwards.
Other changes include all race instructions being sent digitally, rather than in the post, and all Green Start race numbers being printed on demand when picked up, rather than in advance (at the moment race numbers for 52,000 runners are pre-printed and 10,000 of them are never used).
We're running the London Marathon for the third time this year and to our mind all these changes seem like smart options to make the race more sustainable with minimal impact on the runner.
Sign up for workout ideas, training advice, the latest gear and more.