Marathon Tips For First-Timers Running The London Marathon
Ensure your race day is a happy one with this advice from a London Marathon veteran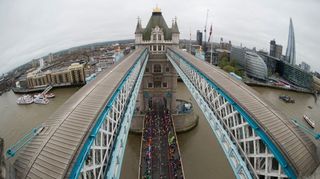 (Image credit: Unknown)
No matter how many marathons you run, the pre-race nerves never go away completely, but it those nerves will almost certainly be at their worst before your very first one. Especially if it's the London Marathon, which is such a huge event that you can't escape mentions of the race in the days leading up to it.
A little advice from someone who has experienced the buzz of the London Marathon can go a long way towards helping first-timers handle their nerves and prepare for the day. That's why we enlisted Gary McKee, who is running it for the fifth time in a row in 2019, to give us his tips. McKee runs to raise money for Macmillan Cancer Support (opens in new tab) and when he took part in the London Marathon in 2017, it capped an epic endurance feat in which he ran 100 marathons in 100 days. Basically, McKee knows his marathon onions, so listen up.
How did you get into running marathons?
"I took part in a half marathon in 2008 with a few friends in memory of someone who'd died," says McKee. "I hadn't done a lot of training and the next day I had legs like Pinocchio's, coming down the stairs wishing I had a stairlift! I did more half marathons over the next couple of years, and then my first full marathon was in 2010, when I did the Edinburgh Marathon. I was aiming for four hours. It was one of the hottest days of the ear and I ran 4hr 36min, I was absolutely shattered – I felt ten times worse than after my half marathon!"
Not to be deterred by this, McKee stepped up his running even further by running from Land's End to John o' Groats in 2011, before returning to the Edinburgh Marathon.
"When I ran Land's End to John o' Groats I covered around 900 miles [1,450km] in 26 days, so I was doing 32 miles a day. Then I went to Edinburgh a couple of weeks after I'd finished and ran it in three hours thirty-something – I took nearly an hour off my previous time, so I was pretty pleased!"
See related
What tips do you have for marathon first-timers?
Warm up: "When I go to a marathon now I will stretch and jog a couple of miles beforehand, which I didn't used to do," says McKee. "That way you hit the ground running, so to speak, and you're into your pace before you know it, rather than setting out cold."
Have a strategy: "In your own head you have to process how you're going to complete the race. Are you going to run it all? Are you going to walk a bit, run a bit, walk a bit? You have to understand the strategy you're going to use."
Talk to people: "If you're running with a partner, try to talk to each other and have happy thoughts. And if you're running solo, talk to other people to pick yourself up. If you encourage other people, it seems to do the trick for you too. During that 26 miles you might need some encouragement and help yourself, and you're only going to get that from your fellow runners, so talk away. It's diversional therapy – taking your mind off the pain that your body's going through."
Get your name on your vest: "When someone is shouting your name, it's personal to you and it picks you up, it's unbelievable. The thing about London is there are supporters from the first to the very last step you take, and you're cheered along the way by thousands and thousands of people."
Why do you run to raise money for Macmillan?
"We've all got a cancer story, it affects every one of us," says McKee. "I'll never forget the day I was told my dad had cancer and I just wanted to do something. When you're facing cancer you tend to think you're facing it alone but I want to show people that although I can't fight it for you, I'll be in your corner trying to help, raising as much money as I can.'
Gary is running the London Marathon for Macmillan Cancer Support as part of #TeamMacmillan. To take on your own challenge event to help Macmillan be right there with people living with cancer visit macmillan.org.uk/challenge (opens in new tab).
Sign up for workout ideas, training advice, reviews of the latest gear and more.